We Are DIY Investors...Just Like You
By way of background, Parsimony Investment Research is a group of Do-It-Yourself investors that whole-heartedly believe that individuals can and should educate themselves and manage their own money. That is, of course, if you are willing to dedicate the time and patience necessary to do so. In today's low interest rate environment, paying even modest fees to a financial advisor can significantly eat into your profits. At the end of the day, it's YOUR money and you alone are the best shepherd of your capital.
We started Parsimony to share our experiences, strategies and research with fellow DIY investors. At the end of the day, we are all in the same boat…so let's set sail and preserve and grow our wealth together!
Building A DIY Dividend Portfolio
We use a combination of fundamental and technical analysis to determine which stocks to buy and when to buy them. For dividend stocks in particular, we have a proprietary rating system that ranks over 700 U.S. dividend stocks on a weekly basis.
Our composite rating is derived by ranking each stock based on 28 key fundamental and technical data points in five sub-rating categories:
Risk-Reward Profile (e.g., current yield, Calmar ratio)
Financial Stability (e.g., sales and EPS growth, ROE, leverage)
Dividend History (e.g., historical dividend stability and growth)
Future Dividend Potential (e.g., payout ratio, EPS estimates)
Relative Strength (e.g., 12-month total return and trends)
Over the course of the next few weeks, we are going to highlight our top-ranked dividend stocks within each sector. Our goal is to provide fellow investors with a diversified pool of high-quality dividend stocks that we feel have the potential to be a core holding in your DIY Dividend Portfolio.
It should be noted that we also believe that patience is a virtue. Just because a stock has a high Parsimony composite rating, it doesn't necessarily mean that you should run out and purchase it that day. We scan the charts of our top-rated stocks daily looking for strong levels of support and resistance, which ultimately helps us determine a target "Buy Zone" for each stock. We believe that patiently waiting for a low-risk entry point for a given stock will drastically improve your long-term investment results.
Part 1: Consumer Staples
Like most "defensive" sectors, the Consumer Staples sector has outperformed the S&P 500 over the past 5 years. While the S&P 500 has struggle to get back to break-even, the Consumer Staples sector is up almost 40%.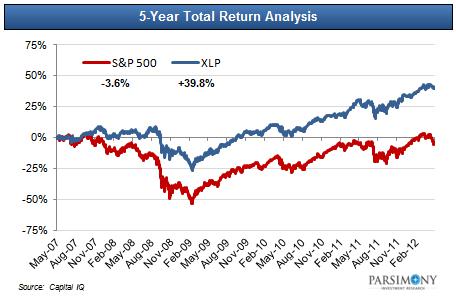 More importantly, the sector was also much less volatile than the broader market. We often look at maximum drawdown (peak-to-trough decline) to help us quantify the downside risk of an investment. While the S&P 500 declined over 55% during the 2008 recession, the maximum drawdown for the Consumer Staples sector was a much more modest 32% (see chart above).
Higher total returns with less downside risk...what's not to like about the sector.
That said, below is a list of our top-rated Consumer Staples dividend stocks. Note that our composite rating ranges from 0 (lowest) to 99 (highest).
All of the stocks on the list above have a current dividend yield of at least 2.5% and a 5-year beta under 0.55. Also, all of these stocks have significantly outperformed the S&P 500 over the past 5 years (on a total return basis), led by Altria Group (NYSE:MO) with a total return in excess of 100%.
As shown in the table below, a stock with a high composite rating (>95) will typically also have a 85+ rating in at least 2 of the 5 sub-categories.

All of the companies on this list have long and stable dividend histories (as dictated by their high Dividend History rating). As a matter of fact, Wal-Mart Stores (NYSE:WMT), Colgate-Palmolive (NYSE:CL), Coca-Cola (NYSE:KO), and Kimberly-Clark (NYSE:KMB) are all members of the S&P 500 Dividend Aristocrats club, which have followed a policy of increasing dividends every year for at least 25 years. While Altria is technically not a member of this club due to the spin-off of Philip Morris in 2008, the company has paid a dividend to investors for over 40 years now.
Conclusion
Any DIY Dividend Portfolio should include several stocks from the Consumer Staples sector. Stocks in this sector have low relative betas and will tend to be less volatile than the general market, which will help dampen overall portfolio volatility.
In Part 2 of this series, we will highlight our top-rated stocks in the Utilities sector so please make sure to "follow" us.