The non-efficiency of the market is at it again (there are a lot of these situations out there these days, no?) with Patriot Coal (PCX), as zero hedge and debtwire cited the all too famous "sources familiar" but unnamed folks, claiming that bankruptcy is right around the corner. Mere seconds of actually looking at the financial statements and peering at the debt section of the 10-K will paint an entirely different picture. Typical tape-bombing, doomsaying, bear-raiding blog post without any actual facts present in the eight whole lines of text.
Let's look at the debt:
The issuance of shares of our common stock upon conversion of the convertible notes could dilute the interests of Patriot's existing stockholders. The convertible notes are convertible at the option of the holders, under certain circumstances, during the period from issuance to February 15, 2013 into a combination of cash and shares of our common stock, unless we elect to deliver cash in lieu of the common stock portion. The number of shares of our common stock that we may deliver upon conversion will depend on the price of our common stock during an observation period as described in the indenture. Specifically, the number of shares deliverable upon conversion will increase as the common stock price increases above the conversion price of $67.67 per share during the observation period. The maximum number of shares that we may deliver is 2,955,560. However, if certain fundamental changes occur in our business that are deemed "make-whole fundamental changes" as defined by the indenture, the number of shares deliverable on conversion may increase, up to a maximum amount of 4,137,788 shares. These maximum amounts, the conversion rate and conversion price are subject to adjustment for certain dilutive events, such as a stock split or a distribution of a stock dividend.
Ok, so they are massively anti-dilutive. So there is no threat to equity holders from these notes. The notional amount is $200 million and they don't mature until May 31, 2013; a year from now.
Revolving Credit Facility:
Our revolving credit facility matures in December 2013 and our $200 million of convertible notes mature in May 2013. As of March 31, 2012, we had $278 million of outstanding letters of credit against our revolving credit facility.
The remainder of their long-term debt is not due until 2018.
Liquidity:
Both the credit agreement and the account receivable securitization program (the facilities) are available for our working capital requirements, capital expenditures and other corporate purposes. As of March 31, 2012 and December 31, 2011, the balance of outstanding letters of credit issued against the facilities totaled $329.2 million and $331.8 million, respectively. There were no outstanding short-term borrowings against either facility as of March 31, 2012 and December 31, 2011. Maximum availability under these facilities was $223.3 million and $220.7 million as of March 31, 2012 and December 31, 2011, respectively.
As of 3/31/2012 PCX had $115 million in cash.
So, what is the real story. Patriot is wrapping up a $625 million loan to pay off $200 million in convertibles that are impossible to convert and $300 million in letters of credit tied to future asset retirement obligations, pension costs, etc. There is no reason yet to believe that this will not get done, as they stated today. They have no other obligations until 2018. Does it look like bankruptcy is imminent? A worst case scenario would have them retiring the $200 million by May 2013 and working on the letters of credit for the next 19 months. Wow, sounds dire. Especially with liquidity that exceeds $338 million.
Now, while the U.S. is dealing with the after effects of a warm winter, and an administration that hates coal, the rest of the world is taking our exports with glee. The long-term coal prospects globally are very strong, and U.S. companies' coal exports are growing rapidly. Clearly this is a highly cyclical industry and massive cutbacks are going to have an effect. Imagine if we have a hot summer as well. And don't forget that natural gas decline rates are steep while the vast majority of natural gas wells are unprofitable under $4 per mmbtu.
Furthermore, you keep hearing about utilities switching to natural gas. These comments come from uninformed pundits on CNBC, and not from facts. Cloud Peak states in their 10-Q:
However, the level of coal-to-natural gas switching appears to currently be limited by infrastructure constraints. Consequently, we do not expect significantly more switching from PRB coal to gas even if gas prices continue to fall.
People think Patriot is too risky, which frankly is baffling. It may have been at $25, but at $2? $23 of risk has been removed from the stock. The entire float traded today, which smacks of trading bots and short selling, which will obviously exceed the 26% of the float as of April 30.
Bottom line: eventually the coal market will correct and these shares will be much higher. You don't think that this will have an effect on prices?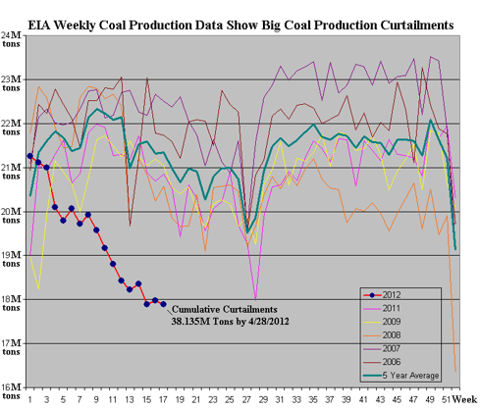 Disclosure: I have no positions in any stocks mentioned, but may initiate a long position in PCX, JRCC, ACI, ANR over the next 72 hours.