Las Vegas Sands (NYSE:LVS) has come a long way since 2008 from being the poster the child of an over leveraged debt ridden company to on the cusp of having an impeccable balance sheet with cash cow producing properties. Since reaching $62 in early April the stock has plummeted as fears of a China hard landing take center stage yet again.
LVS' most recent quarter shows $2.7 billion in revenue, almost 82% of those dollars were derived from the Far East (Macau and Singapore). Using this metric alone, it seems like common sense to sell LVS on the news that China's economy is about to endure a serious downturn, but under the surface LVS is well positioned to wade through any such downturn short term, and profit immensely if fears are proven yet again to be overblown.
Resurgence of Market Share in Macau
One of the main reasons LVS was flat last year had to do with the fact that its market share in Macau was on a steady decline. I regularly plot the revenue from LVS' Macau region compared to the gross gaming revenue that Macau reports monthly. Beginning in the middle of 2008 LVS began to lose market share and it escalated into the middle of 2009 when Melco Crown (NASDAQ:MPEL) opened City of Dreams. Since that time and the addition of 3 more mega resorts from the likes of Wynn (NASDAQ:WYNN), Chinese gaming mogul Stanley Ho Mynn (NYSE:SJM), and MGM (NYSE:MGM), LVS' market share has plummeted from the low 20s to a record low of 13.5% in Q3 2011. Here's a glimpse of market share.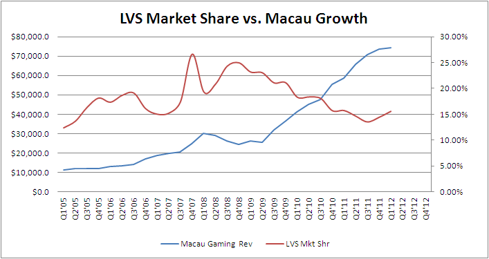 As you can see, late last year LVS began regaining market share and they are back over 15%. This trend should continue as LVS is actively opening Sands Cotai Central, the last property to come online in Macau until 2014-2015. It began opening in April and will launch in 3 phases throughout 2012 and into Q1 2013. The "newness" of the project will undoubtedly drive market share gains; the big question is will the gains come from rival resorts, or will Cotai Central cannibalize LVS' existing properties? It is far too early to make that call, and only time will tell. Macau is expected to continue to grow, albeit at a slower rate than the 30-40% gains we saw the last few years, but with 20% year on year gains for Macau and expanding market share, LVS' China operations seem very attractive going forward.
Gaining Share in Las Vegas
While the Las Vegas Strip has not fully recovered from the depths of the financial crisis, it is in the bottoming out phase as US consumers are becoming more comfortable with spending money again. During this time though LVS has seen its market share rise in Las Vegas with a percent of total strip gaming revenues further adding to its reputation as the premiere casino operator in all regions. Should the US market return to the days of old, LVS remains in good position to capitalize on the growth. It should be noted though that Las Vegas only makes up about 15-16% of LVS' revenues at this stage in the game.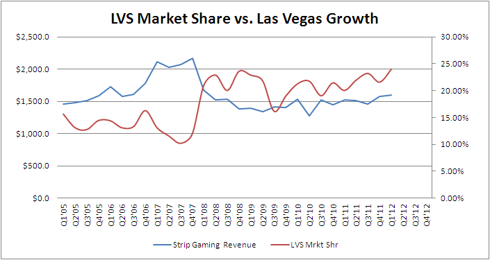 Manageable Debt Load
Although LVS has $9.9 billion in debt, its maturity profile is well organized. Below you can see the illustration that shows the bulk of LVS' debt coming due in 2016, some 4 years away. The company has over $4.1 billion in cash and equivalents on the balance sheet right now and they will refinance the Singapore credit facility in Q2 which they mention on the most recent 10-Q page 42.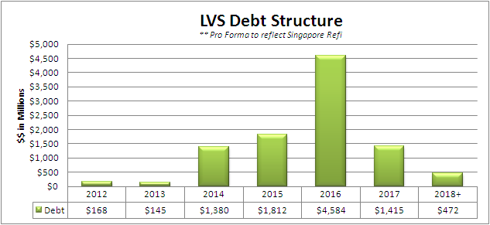 Sure, $4.5+ billion coming due in 2016 may raise some eyebrows, but when you consider the fact that LVS is turning into a cash cow they will likely chip away at that number before getting there or refinance as they approach to break it up. The next image is a look at LVS Adjusted Property EBITDA from 2012 through 2014. In my projections I assumed the following:
20% Growth Rate Macau for 2012, then 18% (Conservative)
15% Growth Rate in Singapore (Slightly aggressive)
5% Growth Rate in Las Vegas Strip (Consensus)
3% Growth Rate in regional (Consensus)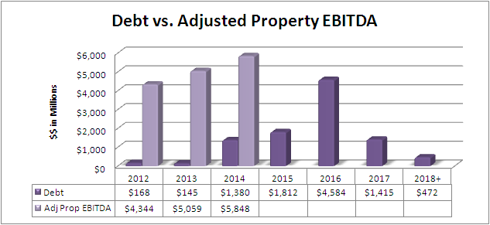 As you can see, LVS is expected to significantly grow APE, producing $4-$6 billion in operating EBITDA a year. After Cotai Central is fully opened in 2013, CAPEX will be significantly reduced for the company as they will direct their focus towards maintaining properties instead of opening. This leaves the company ample room for dividend raises, debt repayment, the eventual repurchase of stock, growth through development, etc.
A Look at the 3-Year Projections
In closing, I'll leave you with these 3 year projections for LVS. Should China avert a hard landing, it is safe to assume LVS will continue to take market share. They indeed are the best in breed gaming stock. In this article I did not touch on the prospects that Singapore presents, mainly because they are well known by the investment community.
I read a lot of comments regarding LVS' debt load and when you actually look at the numbers, the structure and the cash flow they'll produce before they even get there, LVS is in better shape than it ever has been. I firmly believe dividend growth is on the horizon for the next 2-3 years and now is a great entry into LVS when you look at this 3 year projection.

Disclosure: I am long LVS.