If you feel the stock market is approaching bottom and you are actively buying stocks - we do not want to tell our readers how to buy stocks - but strongly suggest you take a look at Second Wave Petroleum (OTC:SCSZF) as we feel it is an oil stock that you should consider adding to your portfolio.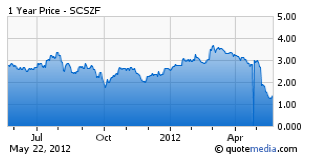 This oil stock is a $125 million dollar market cap stock with a 80% oil weighting. This oil stock has 94 (47 net) section land position in the Beaverhill Lake, where 31 (14.8 net) wells have been drilled and completed to date and generally realizing strong initial rates of over 600 boe/d on a 30-day basis which makes this stock a buy. We continue to hold strong conviction that activity to date, both by this oil stock and its peers, confirms the high quality of the play to which we assign a project value of over $5.00 per share.
Recent drilling cycle times have been reduced by about 20% for this hot oil stock which trades on the North American stock markets, which saw accelerated drilling in the first quarter, while other incremental costs savings associated with reduced industry activity in the WCSB and increased availability of acid and services should present further cost savings and improvements to the company's capital efficiencies.
National Bank has a target price of $4.50 which equates to a return of over 100% which makes this one of the top oil stocks available on the North American stock markets. Second Wave has the potential to provide much better returns than its large cap peers which include BP, COP and CHK. Operations continue to remain on-track, with Beaverhill Lake light oil production of about 2,800 boe/d (90% oil) with 28 (13.6 net) wells pumping, 3 (1.2 net) wells flowing and 4 (1.6 net) wells awaiting completion.
This stock continues to expect to maintain a drilling pace over the remainder of the year of 2.6 (1.0 net) wells per month to complete its announced $85mln, 39 (16. 8 net) well capital budget and meet its exit guidance of 5,000 boe/d. Current corporate production stands at 3,500 boe/d. Second Wave continues to have drilling success.
In stock trading a lot of our advisors and users feel the stock market is approaching bottom and although we do not want to tell our users how to buy stocks, we feel that this oil stock is definitely worth a consideration as a stock to hold in your portfolio.
For the Canadian investors this is stock is both RRSP and TFSA eligible.
Disclosure: I have no positions in any stocks mentioned, and no plans to initiate any positions within the next 72 hours.