It is amazing what a volatile market can do. As I experience my first market correction of my short investing career, everything that I have read has prepared me in finding the bargains. The big financials are the obvious choices but finding a small well-run company is where the big money is made. I could sit here and write several articles on big banks but that is not why I set up this blog for in the first place. I wanted to find small caps that would outperform the market in the long run. Lately, I have hit the books and came out with a big catch. United Rentals (NYSE:URI) is the name and value is the game.
Business Profile from Yahoo Finance
United Rentals, Inc. operates as an equipment rental company worldwide. The company offers for rent approximately 20,000 classes of rental equipment, including general construction and industrial equipment, aerial work platforms, general tools and light equipment, and trench safety equipment.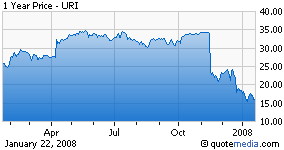 United Rentals was supposed to be acquired by Cerberus Capital Management LP $4 Billion ($34.50/share) but Cerberus decided to pull out of the deal in November. After the pullout, the stock plunged more than 30% and drifted lower to its current stock price of $16. At these levels the stock trades at 2 times cash flow and 6 times earnings.United Rentals normally trades at 11 times earnings. Its return on equity for the past twelve months is 17% but I see a normalized return on equity being 15%. Gross margins have consistently average more than 30% and operating margins averaging 15%.
The market currently values United Rentals at 1.37 billion. This is well below its property, plant& equipment [PP&E]. The company values its PP&E at 3.33 billion. Of that 3.33 billion, 2.918 billion consists of rental equipment. Assuming the aerial lift equipment , earth moving equipment, forklifts and trench machines are valued at 50%, we can value the equipment at 1.459 billion or $17/share.
For the quarterly period ending September 30,2007, United Rentals reported earnings before interest and taxes of 218 million bringing its trailing twelve months total to 1.16 billion. With an enterprise value of 4.02 billion, the company trades at a pretax earnings yield of 28.8%.
Trailing Twelve Months Revenues: $3.74B
Pretax Margin: 9%
Net earnings: $.3366 ($3.96/share)
WACC: 10%
Estimated Value: $39/share
WACC:12%= $33/share
WACC:15% =$26/share
As you can see the business currently trades with a margin of safety according to my earnings power valuation. In addition, United Rentals has the assets to provide the intelligent investor safety just in case the company hits a speed bump. I will be adding United Rentals to the Garcia Value Fund. Unfortunately, I have no cash on hand and decided Waste Management (WMI) and True Blue Inc (NYSE:TBI) would be the ones to sacrifice. United Rentals will be my largest position representing 8%. I want to take advantage of market conditions right now as I feel Mr. Market is offering bargains that I have not seen in my short investing career.
Disclosure: I do not own United Rentals.