Germany sold today €4.56billion ($5.8bn) of two-year government bonds with a record-low coupon rate of zero percent. The price was a little below par so the yield was fixed at 0.07%, virtually a zero return for a two-year investment. At the previous sale of two-year bonds in April, the securities were sold at a record-low auction yield of 0.14%. Basically, Germany is taking advantage of the opportunity to fund itself at virtually no cost due to investors' demand for the euro zone's safest bonds, as investors sought a refuge from Europe's financial woes.
(click to enlarge) - German 2Y Yield
Source: Bloomberg
Although a bond sale with a zero return isn't something new, usually it only happens for very short-term bills with maturities lower than 3 or 6 months. Does it make sense to invest for a zero return over a period of two years? Instead of chasing return, investors are parking their money where they see it as least risky and within the Eurozone that means Germany.
Clearly, investors are more worried about capital preservation (return of capital) instead of capital appreciation (return on capital). With the current inflation rate in the Eurozone above 2% the real return until 2014 of this bonds will surely be negative, unless Europe enters a deep recession and on a deflation spiral.
But is Germany the only safe harbor for investors in Europe? Within the Eurozone probably yes but if investors think of Europe in broader terms, there is a very good alternative in Norway as I discussed briefly on my article "5 Stocks Yielding Above 4% From 'Safe Haven' Norway".
Norway is a country with the best fundamentals in the world. In 2011, the government's budget had a 12.5% of surplus, the GDP growth rate was 1.6% and inflation is very low at 1.31%. The unemployment rate is also remarkably low at 3.29%. It remains one of the few countries in the world with an AAA credit rating and is the cheapest European country to insure against default.
For investors searching for a refuge, the Norwegian bond 1Y yield is around 1.5% (in Norwegian Krone). This represents a much better return that German bonds at zero and with the safety of a strong currency. Even for equity investor the Norwegian (NYSEARCA:NORW) stock market can be a good alternative, trading at a P/E ratio of 11.7x and with a dividend yield of almost 2.5%.
(click to enlarge) - Norwegian 1Y Yield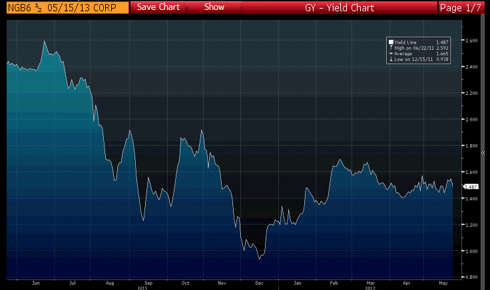 Source: Bloomberg
Disclosure: I have no positions in any stocks mentioned, and no plans to initiate any positions within the next 72 hours.