We entered into a long position in Manning & Napier, Inc (NYSE:MN) towards the end of February 2012 because we were impressed with the results of the company from 2006-2011. Manning & Napier is a well-respected, fast-growing asset management boutique headquartered just outside of Rochester, NY. We believe that because of the complex and nontraditional nature of MN's corporate structure, investors may not necessarily have the ability to understand this company. We feel that the company is undervalued and that's why its IPO did not increase much during trading hours and closed flat on the first day it was trading on the NYSE. At least it has outperformed the S&P 500 since it went public on November 18th: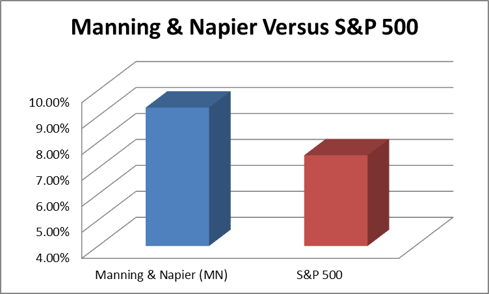 Click to enlargeSource: FactSet Marquee
The company was able to generate an 8.93% growth in Q1 2012 revenue versus Q1 2011 revenue, which exceeded many of its competitors. Despite the fact that recurring operating expenses increased faster than revenue, the company still recorded 6.7% growth in recurring income from operations. We were glad that recurring compensation (excluding non-cash, non-recurring IPO share reorganization related expenses) expenses only increased by 4.93%. The increase in expense is primarily the result of Manning's continued desire to invest in its people, which grew at 18% resulting in the head count moving from 414 employees this time last year to 489 employees at the end of the quarter. And to a lesser extent, this is also a result of an increase in sales commissions, which is up 5%, but was offset by a 26% decline in analysts' bonuses year-over-year.
MN's Q1 2012 shareholder servicing expenses increased by 8.37% versus Q1 2011 levels. This was lower than revenue growth and was primarily due to increased client AUM. We were disappointed that the company's other operating costs increased by $2.4M, or 38% year-over-year. This increase was primarily attributable to increases in professional services fees related to public company requirements incurred in the three months ended March 31, 2012, and higher 12b-1 fees resulting from an increase in mutual fund AUM.
MN still achieved an operating margin of 42.3% and its adjusted EPS beat consensus analyst expectations by 7.69% (28 cents versus 26). Cash and cash equivalents were $89.3M as of the end of the year. Client AUM balances grew by 11.27% ($4.5B), which included $323M in net client principal deposits. Though the organic growth rate of 0.8% for the quarter was lower than past quarters for MN, it still exceeded the majority of its peers. Net income grew due to increased client AUM balances and the absence of interest expense on employee stock shares subject to mandatory redemption. AUM increased by 5% versus Q1 2011 and economic net income increased by 7.76% versus Q1 2011.
In the first quarter, Manning hired five of the seven direct client representatives it planned to hire for 2012, which brought the total to 26 as of March 31, 2012, which is ahead of schedule compared to what management told everyone last year on the IPO road show. During MN's road show, the company looked at the 100 large metro areas and recognized that it have representatives in only 14 of those. And as most people know, most client development reps work out of their homes, home offices. So we're not seeing bricks-and-mortar on-site locations when we hear Manning talk about the geographic expansion.
MN's organic AUM fund flow growth consisted of $400 million of net new flow into its mutual funds and collective investment trusts, offset by approximately $100 million of net cash outflow from its separate accounts. The $100 million of net cash outflow from its separate accounts included $800 million of gross inflows, offset by $900 million of gross outflows. MN continues to have a low cancellation rate on an annualized basis of only 4.4%, or stated differently, MN continues to see a very high client retention rate of 96%.
With regards to the investment management segment, the investment managers see opportunities due to the European Sovereign Debt Crisis negatively impacting the markets there, including high quality businesses that are growing faster than Global GDP which have some competitive advantage that's sustainable in its marketplace.
In conclusion, we were pleased with the performance of Manning & Napier during the recent quarter and since the price of the stock as of May 18th ($12.96.share) is around where it was when we started following, we will be taking advantage of the market volatility to potentially add to our position. Read our full report on Manning.
Disclosure: I am long MN.
Additional disclosure: Saibus Research has not received compensation directly or indirectly for expressing the recommendation in this report. Under no circumstances must this report be considered an offer to buy, sell, subscribe for or trade securities or other instruments.