By now everyone has accepted the fact that the Facebook (NASDAQ:FB) IPO has been a flop and the headline grabbing issues that have followed have been stunning.
The ridiculously high P/E assigned at the last possible moment
The increased number of shares issued at the very last moment
The Nasdaq trading confirmation issues that left both investors and traders in the dark for hours (if not longer)
Then over allocation of shares for many brokerage firms which went unknown until the last minute
The share price "support" given by the underwriters to delay the inevitable drop in price simply to protect the IPO launch.
I could go on, but the many news reports that have outlined this mess are just about everywhere for everyone to read.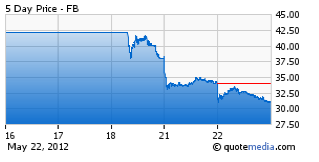 This CNBC article outlines the many stories associated with the Facebook IPO issues:
The Financial Industry Regulatory Authority's chairman said on Tuesday that regulators plan to review allegations that Morgan Stanley (NYSE:MS) shared negative news before Facebook's initial public offering with institutional investors. "The allegations, if true, are a matter of regulatory concern" to FINRA and SEC, Ketchum told Reuters.
Another:
Aswath Damodaran:
...(The) inputs yield a value of equity for Facebook of about $70 billion, and a value per share of $29. Assuming a company will grow like Google (NASDAQ:GOOG) and have margins like Apple (NASDAQ:AAPL) is, by definition, optimistic and this value would be at the upper end of my range. Assuming a more rocky road to scaling up and lower profitability will deliver a value in the $20-$25 range.
As well as this;
Lauren Young:
It's no surprise to anyone that big investors get preferential treatment on Wall Street. Investors expressed disappointment, skepticism and even shock on Tuesday after learning that an analyst at lead underwriter Morgan Stanley cut his Facebook revenue forecasts in the days before the company's initial public offering - information that apparently did not reach small investors before the stock went public and subsequently tumbled. The divide between the research and retail arms of big Wall Street firms has always been deep. A former Morgan Stanley broker described the relationship as being "like Venus and Mars," an allusion to a best-selling book about the inherent differences between men and women.
Read each report at your leisure. In the coming days and weeks who knows what else will surface.
A new IPO which will be forthcoming will more than likely have none of the issues that Facebook had, and could very well be one of the most successful IPOs - but certainly not the largest.
LegalZoom.com Is Already A Success
LegalZoom.com was founded in 1999 (yes, before the turn of the century) and has been a stirring success almost from the start. This BusinessWeek report gives a broad overview of the company's intentions:
LegalZoom.com expects to raise about $120 million from its initial public offering, the online legal services company said Friday, part of its effort to expand and possibly buy new companies.

The company did not give a date or give a price for the shares. The estimate of $120 million in proceeds could change depending on how much interest there is in the company's stock.
Personally, I think there will be plenty of interest. I for one am interested myself. The company is making money by offering an actual product (what a unique concept) that consumers actually need. LegalZoom.com is also quite profitable:
Last year, the company reported $156.1 million in revenue, up from $120.8 million in the prior year period. LegalZoom.com Inc. reported net income of $4.7 million, or 13 cents per share, compared to a net loss of $8.1 million, or 28 cents per share, during the same period a year before.
It also appears that the general public are not the only ones talking about this IPO, but as noted in this wsj.com blog the legal community has their eye on LegalZoom.com:
There are strong feeling about this company among practicing lawyers, but the numbers suggest there is place for these kinds of services. LegalZoom said it gets high marks on customer satisfaction surveys.
Seems to me that this IPO can become a stunner.
The blog also noted:
LegalZoom has its eye on the roughly $100 billion in legal services provided to small businesses and consumers. The company said it plans to grow through building out its subscriptions plans and expanding internationally.
That is a huge chunk of the $300 billion dollar legal services business. If it is just 10% successful we are looking at a $10 billion dollar company.
All of the pertinent information is detailed within the S-1 filing with the SEC, and should be reviewed for your consideration.
My Opinion
I am going to make an early call on this new IPO. LegalZoom.com should be a winner. I want in on this one.
Disclosure: I will try to obtain shares of LegalZoom.com when available