There no longer appears to be any real question as to the name of the current Federal Reserve Chairman - it is clearly Ben Bernanspan and not Ben Volckeranke.

[I'd give credit to whoever it was who thought up "Bernanspan", but can't seem to recall where that was first heard - "Volckeranke" is my own creation. And that weird picture below is courtesy of Freaking News.]
A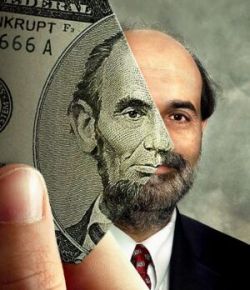 new era of competitive currency debasement appears to have begun yesterday with the Bank of Canada cutting their short-term interest rates a quarter point to an even four percent and the Fed slashing by three-quarters of a point to just 3.5 percent.
Early last summer, when long-term rates were up over five percent, did anyone seriously think that short term rates in the U.S. would be almost two percentage points lower just six months later?
The European Central Bank is now being gently prodded to fall in line with recent moves in North America and, given the turmoil in some equity markets over there, that may come sooner rather than later.
China and other emerging economies have been raising rates lately, but that may change soon enough.


Gold and Gold Stocks
After Monday's worldwide equity bloodbath that excluded the U.S. due to the Martin Luther King holiday, a number of "stink-bids" were placed for some of my favorite small mining companies, but none of them were hit.

With the price of gold having risen $42 off of yesterday's low, it's easy to see why.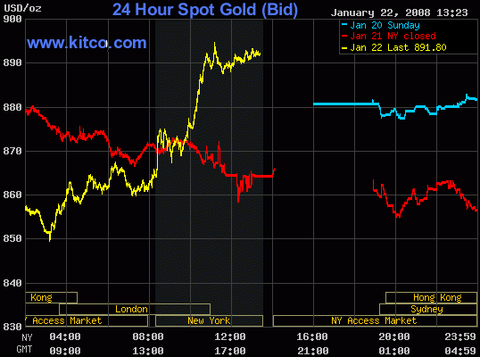 The yellow metal got another look yesterday from a lot of investors who just sat idly by for the last seven or eight years while the price more than tripled. Someone on CNBC was heard to say something like, "The only thing I'd buy today is gold".
He wasn't kept over to the next segment (sometimes you have to wonder why they keep showing the gold price in the upper left corner of the screen).
With new, much higher estimates of the fiscal stimulus yet to come and supply-side pundits now chuckling about how it's (not) going to be paid for, there seems to be no end in sight for the amount of money that will be created or borrowed and then spent, in an effort to keep the wheels from falling off of the global economy and world-wide financial system.
Now, there also appears to be no end in sight for how high the price of the world's oldest money might go when measured in terms of the stuff now being created and borrowed with abandon.
Someone on TV said that financial stocks are going to be the "new" leadership out of what many are grudgingly calling a bear market in stocks.
It hardly ever works that way.