Several headwinds could force Sierra Wireless (NASDAQ:SWIR) to post a conservative 2008 guidance, says Raymond James equity analyst Sera Kim in a research note to clients on Monday.
Ms. Kim says that component shortages, a delay in a next-generation product release due to litigation one of its suppliers is facing and a number of retail store closures in the U.S. by Sprint (NYSE:S) will impact Sierra Wireless' business in the near term.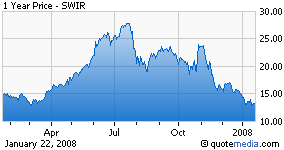 However, Ms. Kim writes, looking further down the road, Sierra Wireless maintains a number of positive aspects that could affect the stock price that are worth highlighting. Competitve product offerings, a strong balance sheet and a discounted valuation proves that the company is strong enough to weather any minor short-term storms.
Ms. Kim maintains an 'outperform' rating with a $26 price target.