Warren Buffett has openly said that he won't buy Apple (NASDAQ:AAPL) shares. He also said that he will never bet against the company. He believes that the company has good economic prospects and will generate massive cash flow in the future. His reason for not buying Apple shares is that he does not have a clue on how to value it. So don't expect Mr. Buffett to buy Apple, even if its presents itself as an attractive investment with strong risk adjusted returns.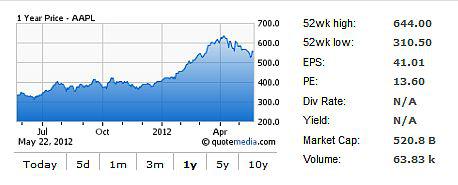 Recently, he hired two investment managers who will succeed him when he is no longer managing Berkshire Hathaway's (NYSE:BRK.B) $100 billion portfolio. He hired Todd Combs and Ted Weschler, two relatively unknown hedge fund managers with good long-term investment records. Both Combs and Weschler will assume Buffett's investment officer role upon the latter's departure. They also have a similar investment philosophy of buying companies that possess strong economic advantages that are also available at good prices.
I will explain why there's a possibility that Berkshire Hathaway will add a position in Apple under the helm of Combs and Weschler. I will use the investment criteria that they use.
Economic Moat (strong competitive advantage)
Apple could very well be within the definition of Buffett's economic moat. It has successfully built a wide moat to ward off potential marauders. According to the survey research firm ClickFox, Apple was named by 20% of its respondents as a brand they couldn't live without. From this news alone, Apple passes the litmus test of possessing a strong competitive advantage. Apple iPhone's market share on mobile devices has grown at a faster rate, from 0.3% in 2007, to 5.4% in 2011. Moving forward, it is expected to move past its share to 15%. Its touchscreen interface and user friendly features have attracted new smartphone users and retained current users. As a result, this has eaten the market share of rivals Blackberry (RIMM) and Nokia (NYSE:NOK). Moreover, the iPad has dominated the tablet space with 61% of worldwide sales. It has single-handedly beaten Amazon's (NASDAQ:AMZN) Kindle Fire.
Good economic prospects
Buffett is not an ordinary stock picker. He also looks at industry and macroeconomic trends and prospects. I believe this also holds true for both Combs and Weschler. When they bought Visa (NYSE:V) and Mastercard (NYSE:MA), they were looking at increased global financial transactions in the future. While the recent data showed that global sales of phones declined by 2% to 419 million in the first quarter of this year, the long-term prospects also appear good. There are estimates of 657 million worldwide mobile phone sales this year. The key trend among consumers is that mobile phone software is increasingly becoming more important than its hardware. In fact, the presence of mobile phone apps is an important factor in higher mobile phone future demand. Meanwhile, the tablet market is expected to cannibalize laptop and desktop PC's sales. Industry experts are expecting tablet sales to grow to 126 million in 2012, translating to a robust growth of 85%.
Its management has a good track record
It is true that a large portion of Apple's success stems from its founder Steve Jobs. However, Apple has a deep management bench that has catapulted the company to where it is today. For the last 5 years, sales have seen average annual growth of 46%. The last couple of years showed even higher growth at 52% to 66%. Net profit margins have also increased from 18% in 2007 to 31% in 2011. This increase is due to the contribution of higher margin products such as the iPhone and iPad. Going forward, these products will provide a bigger chunk of the company's net income contribution from the growing trends towards tablet and mobile usage.
In contrast, its competitors Dell (NASDAQ:DELL) and Hewlett-Packard (NYSE:HPQ) have experienced flat to declining sales growth and margins. Dell's sales growth remained flat at 1%. Its net profit margins have improved at 7.1%, after falling to as slow as 4%. On the other hand, Hewlett-Packard has an average sales growth of 5%, and margins have declined to 7.6% in 2011 from as high as 9% in the previous year. In the mobile phone space, Research In Motion sales growth has fallen off a cliff to -7% from the previous growth of 30%. Also, net profit margins have significantly declined to 8% to an average margin of 21%. Nokia's sales have been declining at an average rate of -6% a year. Its net profit margins have also declined to an average of 6.1% from as high as 15% in the previous years. Another mobile phone competitor, Motorola Solutions (NYSE:MSI), has also experienced the same growth pattern. Its sales growth has remained flat at 1%, but net profit margins have improved to 9% in 2011 from 3.6% in 2007.
Other considerations
Like Buffett, both Combs and Weschler have a preference for financial and insurance stocks. Since they have strong circle of competence with these stocks, they have more confidence in buying them. If you look at Combs' latest picks, two of them are financial service stocks. It also appears that he buys stock not because Warren Buffett will buy them, but because they will provide strong investment returns in the future.
Another point of consideration is the rate of change for technology companies. The rate is relatively higher over other sectors. The competitive landscape for technology stocks is also unpredictable. This is also the same reason why Buffett has avoided technology stocks in general. Apple may have a considerable advantage over its competitors for the next 5 years, but the future remains unseen. Some up and coming small company could potentially disrupt the whole ecosystem of Apple. This happened to personal computing and the music industry. Since Berkshire bets on an industry-basis, it could have a bias against investing in technology companies.
Conclusion
Despite the attractiveness of the investment merits, it still boils down to valuation. Combs and Weschler are spreadsheet guys. They have a track record of pinning down a declining stock rather than catching a high flyer.
Apple is currently trading at 10 times forward earnings. With earnings growth of 20% to 30% a year, I'd definitely say that Apple looks cheap, even to Research In Motion's 6.13 times earnings, or Nokia's 28 times earnings.
In my view, Apple multiples will continue to expand in the coming years. This stock could hit a trillion dollar in market capitalization while remaining cheap. This could be a company that Combs and Weschler might be interested in once they manage Berkshire's portfolio.
Disclosure: I have no positions in any stocks mentioned, and no plans to initiate any positions within the next 72 hours.