Take-Two Interactive Software Inc. (NASDAQ:TTWO) shares have made a decisive move lower since the company last reported earnings in December. The company concluded its fiscal 2007 reporting period on an encouraging note, generating non-GAAP earnings per share of $0.05 versus a loss per share of $0.03 a year ago. In addition to the preliminary benefits of cost rationalization strategies enacted by Take-Two's new management team aiding the bottom line, net revenues rose a solid 10.0%. The top line advance was attributed to strong demand for the under the radar hit title Bioshock for the Xbox 360 game platform, which shipped an impressive 2.0 million units. Take-Two also scored a success with Carnival Games on the Nintendo Wii game console, shipping 500,000 units of this interactive, family friendly title. Management did let modest air out of the balloon in the form of below consensus fiscal 1Q earnings per share guidance due primarily to upfront expenditures to support the fiscal 2Q release of Grand Theft Auto IV. However, fiscal 2008 earnings per share guidance was maintained.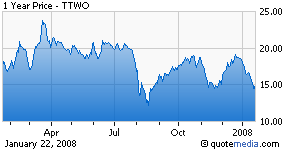 Technology stocks, all the rage of the investor herd for a good percentage of 2007, have succumbed to severe bouts of selling pressure to start 2008. Disappointing 4Q07 earnings results out of leading technology companies as well as cautionary statements regarding growth rates in future quarters continue to fan the recessionary flames on Wall Street. Nevertheless, our analysis on the videogame sector has failed to unearth any deterioration in the demand climate for software or hardware. Sales of new hardware from the likes of Nintendo (OTCPK:NTDOY) (Wii), Sony (NYSE:SNE) (Playstation 3), and Microsoft (NASDAQ:MSFT) (Xbox 360) were top gift items throughout the holiday shopping season as were accompanying titles. We are not forecasting the ramp cycle for next generation hardware to moderate materially in 2008, and suspect videogame software publishers will prosper financially as installed bases increase.
As for Take-Two, the story continues to be the upcoming release of Grand Theft Auto IV in early 2008. Consistent with our prior viewpoints, we believe that shares of Take-Two fail to properly price in the earnings potential of Grand Theft Auto IV, which will be released across the quickly expanding bases of the Xbox 360 and Playstation 3 in a fairly uncompetitive launch window. The game has a fanatical gamer following and stands to be a significant contributor the company's fiscal 08 earnings. While this plays out, the new management team will be aggressive in controlling costs, generating a profit from the 2K Sports publishing label, and bolstering the product development pipeline, all of which provide support for a higher equity price. We anticipate consensus earnings estimates for next year to climb given projected sales of the title.
Written by Brian Sozzi, a Research Analyst for Wall Street Strategies (www.wstreet.com) specializing in the apparel/hardline goods sectors of the retail industry.
Disclosure: none