I noticed a signal of distress sent by the electricity power sector. Yesterday, May 22, the Mid-Columbia firm on peak spot electricity was selling for only $3.84 per mega-watt-hour. That's 0.384 pennies per KWH. I have noticed extremely low electricity prices in recent days. I wondered what it is telling us.
See the 6 months and 5 years electricity whole sale price charts below, obtained from Bloomberg. The URLs are within the charts:
(Click to enlarge)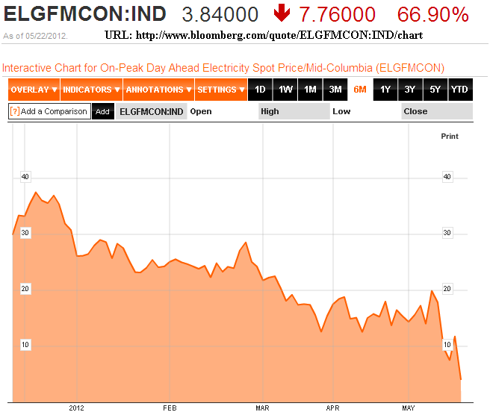 Now look at the 5-year electricity price chart below to get an idea what electricity normally costs. Per MWH prices are normally $30 to $50 or higher. But it reached a low of $3.00/MWH on May 22, 2012:
(Click to enlarge)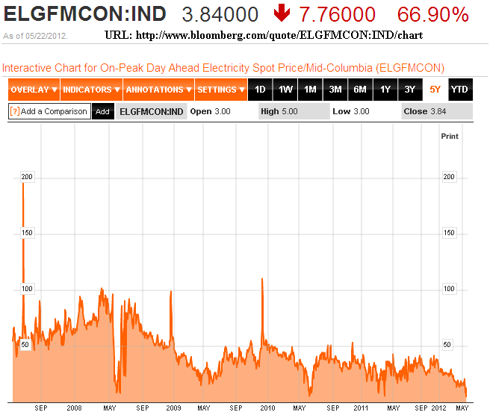 I did some calculations based on EIA data. It costs 0.538 tons of coal or 7.752mmBtu of natural gas to generate one MWH of electricity. (See cell H44 and I44 in the data table) Currently, per MWH cost is $30 in coal and about the same in natural gas.
Needless to say, utilities are losing money burning $30 worth of fuel to generate $3.84 worth of electricity. Electricity is hard to store. Electricity is promptly generated and used. So normally the supply and demand of electricity is very promptly balanced, resulting in electricity prices that generally reflect the reasonable costs.
Why is that not the case recently? Why are utilities willing to sell electricity at such deep discount? Why can't they idle some of the generation units, let supply and demand return to balance and the electricity prices return to the fair value of costs?
I have posted a speculation on what could be going on. But I can not obtain data to either confirm or rule out my speculation. So instead I am asking an open-ended question to spark some debates:
Why Are Utilities Selling Electricity So Cheap?
What are the implications for people invested in the utility sector, and in energy sectors of coal and natural gas?
Tell me what you think of the exceptionally low electricity price. Whatever it is, the electricity industry must be experiencing some distress recently. I don't think they are happy selling electricity for only $3.84 per MWH.
The answer is important for people who invest in utility names:
What's happening in electricity impacts the supply and demand of coal and natural gas, thus it impacts these names in coal:
James River Coal Company (JRCC)
Patriot Coal Corp. (PCX)
Cloud Peak Energy (NYSE:CLD)
Arch Coal Inc. (ACI)
Alpha Natural Resources (ANR)
Peabody Energy (BTU)
Alliance Resource Partners LP (NASDAQ:ARLP)
Walter Energy (NYSE:WLT)
Westmoreland Coal (NASDAQ:WLB)
Black Hills Co. (NYSE:BKH)
It also impacts these names in natural gas:
Investors should continue to monitor the electricity spot price. Look at the electricity price history in June, 2008. It looks like electricity price stayed depressed for only one month, then quickly recovered to normal. That was also the turning point of coal from bullish to bearish. This year, the opposite might happen. When electricity prices recover, it could mean higher coal price and rally in the coal sector.
Why do I think this year is different from 2008? I believe that when electricity is selling at a profitable price again, utilities might want to build coal stockpiles to prepare for the summer peak power season.
Of course that's just my speculation.
Disclosure: I am long JRCC, PCX, ACI, ANR, BTU.