In preparation for the week ahead (starting May 30, 2012), I would like to look at oversold equities (RSI below 30) for possible earnings plays. The list for the current week's oversold stocks reporting earnings can be found here.
(all charts courtesy of finviz.com)
May 30th
Daktronics Inc. (DAKT) - The scoreboard maker is trading at $7.13 per share, down 25% YTD. This thinly traded small cap is trading at a hefty 17.4 forward earnings multiple. Earnings may be the catalyst that propels the stock higher, but we believe selling puts at a $5 strike price may be the best strategy if you are considering a long position.
Teavana Holdings, Inc. (TEA) - "A Heaven Of Tea" is trading at $16.79 per share, down 10% YTD. This beverage company is trading at 21x forward earnings, and that is cheap considering sales over the past 5 years have grown at a 38% annual clip. Earnings next week will help us determine if the story has changed or the market has just mispriced another stock.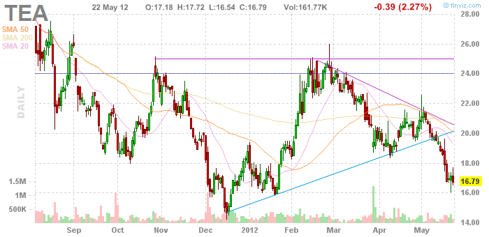 TiVo Inc. (NASDAQ:TIVO) - Our "please just stay away" call of the week is the tech company that is losing market share by the minute. Rivals are focusing in on TV as the next frontier in tech, and TIVO has suffered because of it. TiVo is up 4% YTD, but don't let the numbers fool you; this stock is a dog, and should be avoided at all costs.
May 31st
SAIC, Inc. (SAI) -The business solutions company is trading at $10.51 per share, down 13% YTD. SAI sports a forward earnings multiple of 8x, and has $4.66 per share in cash. The company pays a 4.5% yield and has sold off considerably since its IPO in 2007.
Vera Bradley, Inc (NASDAQ:VRA) - The women's fashion company has cratered since its IPO in late 2011. Shares are trading at $22.21 per share and are down 31% YTD. Once a pricey stock, VRA now sports a forward earnings multiple of 11X. Of the 20 million share float almost half are short, providing a significant catalyst to the shares in the event of an earnings beat or improved guidance on the conference call. Sales have grown at 20% per year for the past 5 years and were up 23% last quarter. VRA is our "pick of the week," and we will be entering into a position before earnings.
Disclosure: I have no positions in any stocks mentioned, but may initiate a long position in VRA over the next 72 hours.