This may seem like an odd pairing, given that Facebook (NASDAQ:FB) and Amazon (NASDAQ:AMZN) don't really compete against each other. Facebook revenue largely comes from display ads, while Amazon's revenue coming from selling everything under the sun on a host of different websites. However at their core, they are both very large cap, high tech companies, attempting to innovate large parts of our life over the internet.
Both companies are expected to see around 30% revenue growth this year and next, and both companies are expected to see earnings growth at around a 30% annual rate over the next five years. Both of these companies also face large risks. Amazon could be negatively affected by states attempting to tax sales on Amazon's websites. Also Apple (NASDAQ:AAPL) could hurt Kindle sales if and when they launch a smaller lower cost tablet. Facebook's large risks, among others, include difficulty in monetizing mobile users; also it is becoming harder to add users, as a large percentage of the worlds online population is already on Facebook.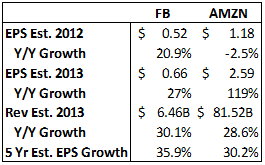 Estimates of growth rates for both Facebook and Amazon are contained in the table above. Despite the large differences in revenue, both companies have about $2 billion in EBITDA over the past 12 months. This is a result of Facebook having operating margins of 43% vs. Amazon at 1.4%. Amazon trades at about 177 times the past 12 month's earnings, and about 83 times 2013 est. earnings. Facebook last Friday traded about 100 times earnings, and almost 70 times 2013 estimated earnings. Amazon is by far the largest US company to trade at those kind of earnings multiples. Facebook attempted to join them, as a $100 billion company trading at over 100 times earnings, and above 50 times forward earnings. Facebook, for the time being, has rejected those kind of multiples, falling now to about 71 times earnings and 47 times 2013 estimated earnings.
So the question now is why does Amazon demand such a high premium on their earnings compared to Facebook? I believe this is because Amazon is innovating on multiple fronts. They took on brick and mortar bookstores and won. They are taking on Apple, Netflix, Groupon, and others. They have a history of success as a publicly traded company. Facebook has hope. People make suggestions of things Facebook could do. They could sell ads in the form of posts in your news feed; they could start a streaming movie service, and many other ideas. One of the biggest changes to Facebook over the past few years has been games created by other companies including Zynga (NASDAQ:ZNGA), who now make up 15% of Facebook's revenue.
I do not believe Facebook has been innovating at the rate a company like Amazon has been of late. Changing the way people's profile looks every so often is not innovative. I believe it is this innovation, entries into new markets, and a fast growth rate that leads to premium pricing of some stocks like Amazon.
Data sourced from: Yahoo!Finance, company filings.
Disclosure: I have no positions in any stocks mentioned, and no plans to initiate any positions within the next 72 hours.