Apple (NASDAQ:AAPL) reported earnings of $1.76 a share, 57% better than last year's quarter but forecast only 94 cents a share for next quarter's earnings (see conference call transcript). Wall Street expected $1.04 for the coming quarter and sent AAPL down in after hours to $136 a share, an 11 per cent drop.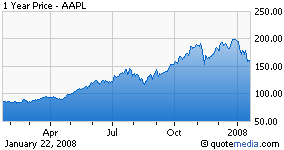 Before all AAPL lovers throw out their stock, its best to remember past company behavior. The subdued forecast is not new for AAPL. AAPL has a history of UPOD (under promise over deliver) and, in fact, has raised the technique to almost an art form. When AAPL reported in January 2007, it did exactly the same thing: reported stellar earnings and made everyone cry with terrible forecasts. AAPL earned $1.14 a share but predicted only 54-56 cents for the following quarter. In the end, the company produced a fine 87 cents of income. That was a 58% beat over their modest prediction.
The company knows how to dampen expectations and then come through big. I think AAPL will continue its tradition of UPOD as it did last year and beat its prediction handily. Last year it beat its own puny forecast by 58%. If it does the same, that 94 cents soft sell turns into a whopping $1.43.
Disclosure: Author has a long position in AAPL