Reasons to be bullish on CenturyLink Inc (NYSE:CTL)
A strong levered free cash flow of $2.82 billion
A good yield of 7.5%
Sales surged from $4.9 billion in 2009 to $15.3 billion in 2011
A five-year dividend growth rate of 72%
A very strong quarterly revenue growth rate of 171%
EBITDA increased from $2.15 billion in 2009 to $6.04 billion in 2011
Cash flow per share increased from $5.70 in 2009 to $8.43 in 2011
A strong five-year sales growth rate of 46%
Operating margins of 15%
Year over year projected growth rate of 12% for 2012
Decent total three year return of 57%
A five-year dividend average yield of 6.5%
A great free cash flow yield of 9.37%
$100K invested for 10 years would have grown to $172K; if the dividends were reinvested the rate of return would be much higher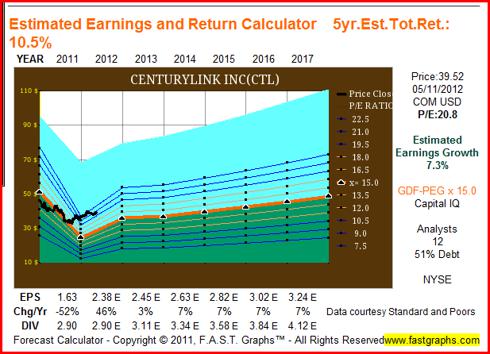 Company: CenturyLink Inc
Levered Free Cash Flow = $2.82B
Basic Key ratios
Relative Strength 52 weeks = 57
Cash Flow 5 -year Average = 7.02
Growth
Net Income ($mil) 12/2011 = 573
Net Income ($mil) 12/2010 = 948
Net Income ($mil) 12/2009 = 647
EBITDA ($mil) 12/2011 = 6046
EBITDA ($mil) 12/2010 = 3509
EBITDA ($mil) 12/2009 = 2155
Cash Flow ($/share) 12/2011 = 8.43
Cash Flow ($/share) 12/2010 = 8.12
Cash Flow ($/share) 12/2009 = 5.7
Sales ($mil) 12/2011 = 15351
Sales ($mil) 12/2010 = 7042
Sales ($mil) 12/2009 = 4974
Annual EPS before NRI 12/2009 = 3.6
Annual EPS before NRI 12/2010 = 3.39
Annual EPS before NRI 12/2011 = 2.21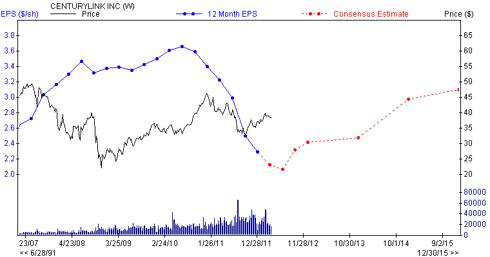 Dividend history
Dividend Yield = 7.5
Dividend Yield 5 Year Average = 6.5
Dividend 5 year Growth = 72.26
Dividend sustainability
Payout Ratio = 1.27
Payout Ratio 5 Year Average = 0.68
Change in Payout Ratio = 0.59
Performance
Next 3-5 Year Estimate EPS Growth rate = 4.09
EPS Growth Quarterly(1)/Q(-3) = 127.63
ROE 5 Year Average 12/2011 = 10.29
Current Ratio 06/2011 = 0.88
Current Ratio 5 Year Average = 0.76
Quick Ratio = 0.88
Cash Ratio = 0.38
Interest Coverage Quarterly = 1.9
Company: ITT Corp (NYSE:ITT)
Basic Key ratios
Relative Strength 52 weeks = 6
Cash Flow 5-year Average = 8.9
Growth
Net Income ($mil) 12/2011 = -130
Net Income ($mil) 12/2010 = 804
Net Income ($mil) 12/2009 = 629
Net Income Reported Quarterly ($mil) = 3
EBITDA ($mil) 12/2011 = -168
EBITDA ($mil) 12/2010 = -113
EBITDA ($mil) 12/2009 = -45
Cash Flow ($/share) 12/2011 = 1.16
Cash Flow ($/share) 12/2010 = 9.63
Cash Flow ($/share) 12/2009 = 8.33
Sales ($mil) 12/2011 = 2119
Sales ($mil) 12/2010 = 10995
Sales ($mil) 12/2009 = 10905
Annual EPS before NRI 12/2007 = 7.06
Annual EPS before NRI 12/2008 = 8.08
Annual EPS before NRI 12/2009 = 7.56
Annual EPS before NRI 12/2010 = 8.82
Annual EPS before NRI 12/2011 = 0.36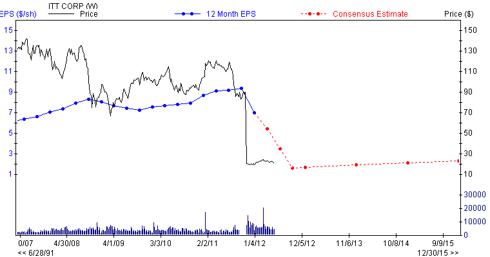 Dividend history
Dividend Yield = 1.7
Dividend Yield 5 Year Average 12/2011 = 1.54
Annual Dividend 12/2011 = 1.34
Dividend 5 year Growth 12/2011 = -7.69
Payout Ratio 09/2011 = 0.07
Performance
Next 3-5 Year Estimate EPS Growth rate = 9.77
5 Year History EPS Growth 12/2011 = 2.2
ROE 5 Year Average 12/2011 = 18.97
Return on Investment 12/2011 = 14.72
Current Ratio 12/2011 = 2.01
Quick Ratio = 1.81
Cash Ratio = 1.33
Interest Coverage Quarterly = 18.5
Company: Ferrellgas Partners LP (NYSE:FGP))
Basic Key ratios
Percentage Held by Insiders = 0.48
Relative Strength 52 weeks = 27
Dividend 5-year Growth = 0
Cash Flow 5-year Average = 1.82
Dividend Yield 5-Year Average = 9.71
Growth
Net Income ($mil) 12/2011 = -44
Net Income ($mil) 12/2010 = 33
Net Income ($mil) 12/2009 = 53
Net Income Reported Quarterly ($mil) = 36
EBITDA ($mil) 12/2011 = 142
EBITDA ($mil) 12/2010 = 219
EBITDA ($mil) 12/2009 = 228
Cash Flow ($/share) 12/2011 = 0.95
Cash Flow ($/share) 12/2010 = 1.85
Cash Flow ($/share) 12/2009 = 2.07
Sales ($mil) 12/2011 = 2423
Sales ($mil) 12/2010 = 2099
Sales ($mil) 12/2009 = 2070
Annual EPS before NRI 12/2007 = 0.6
Annual EPS before NRI 12/2008 = 0.4
Annual EPS before NRI 12/2009 = 0.89
Annual EPS before NRI 12/2010 = 0.67
Annual EPS before NRI 12/2011 = -0.14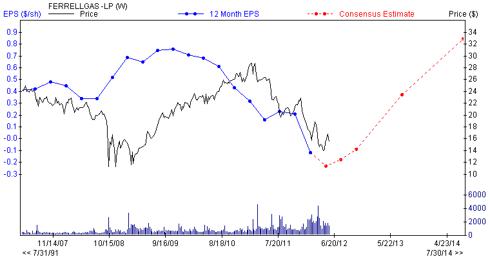 Dividend history
Dividend Yield = 12.50
Dividend Yield 5 Year Average 12/2011 = 9.71
Payout Ratio 06/2011 = 9.52
Payout Ratio 5 Year Average 12/2011 = 5.04
Performance
Next 3-5 Year Estimate EPS Growth rate = 4
5 Year History EPS Growth 12/2011 = -10.65
ROE 5 Year Average 12/2011 = 27.39
Current Ratio 12/2011 = 0.99
Current Ratio 5 Year Average = 1.11
Quick Ratio = 0.64
Cash Ratio = 0.11
Interest Coverage Quarterly = 2.56
Conclusion
The markets are extremely oversold, and some sort of relief rally could take hold soon. However, we still believe there is more downside to this market before a multi-month bottom takes hold. Long-term investors can use strong pullbacks to slowly start deploying money into long-term investments. A great way to get into a stock at a price of your choosing is to sell puts at strikes you would not mind owning the stock at. Investors looking for even more investment ideas might find these articles to be of interest: General Electric: An Option Strategy That Could Potentially triple your yield and Johnson & Johnson 1 Of 5 Long-Term Prospects To Consider.
Disclaimer
This list of stocks is meant to serve as a starting point. Please do not treat this as a buying list. It is imperative that you do your due diligence and then determine if any of the above plays meet with your risk tolerance levels. The Latin maxim caveat emptor applies - let the buyer beware.
Disclosure: I have no positions in any stocks mentioned, and no plans to initiate any positions within the next 72 hours.
Additional disclosure: EPS and Price Vs industry charts obtained from zacks.com. A major portion of the historical data used in this article was obtained from zacks.com.