The currency markets are still at the mercy of bad news. The majors sold off in unison during the European session following a Fitch outlook downgrade for Japan, and any headline with "Greece" in it just accelerates the bear cause. AUDUSD tried to perk up in the U.S. Session despite another poor U.S. manufacturing number, but could not hold gains above 99.00, and slid all the way back to 98.00 in the U.S. Tuesday afternoon session just after news that an 18-billion euro recapitalization deal for Greek banks will have to wait for Wednesday. It was a fascinating couple of days in the market where Monday was a slow news day with prices working steadily higher and Tuesday was the opposite with every bit of news from the London open on pressuring prices lower. From a technical perspective AUDUSD remains in an interesting place on the chart with the secondary pattern bending hard, but the primary pattern still higher - see weekly chart in Figure 1 - which leave open the possibility of institutional accumulation of this carry pair. As long as the news stays gloomy both the day to day pattern and inter-day momentum will stay bearish. Nonetheless, we like a wait and see posture as long as price is holding around 98.00. Day traders on the other hand can focus on the sell side.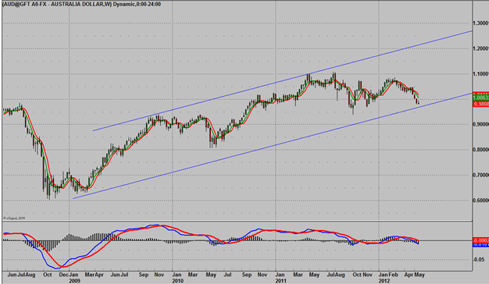 Figure 1. Weekly AUDUSD Chart
The euro reversed the previous session's gains but held above last Friday's 4-month low at 126.43. The euro's problems are systemic and long-term we don't buy into the theory that the euro could somehow soar if Greece suddenly disappears. From our perspective it's a bear market and we need to continue to focus on sell set-ups following rallies or otherwise. If you continue to see poor U.S. economic numbers so much the worse. The next big number is U.S. Durable goods on Thursday. The euro's survival M.O. has been the short-covering squeezes to buy time but it looks like the ECB, which along with other central banks is rumored to be supporting the currency, can't manage those so well either judging from how quickly it unraveled today. While nobody respects the currency, pro's still respect the ECB so it's still best to sell rallies and not breakdowns,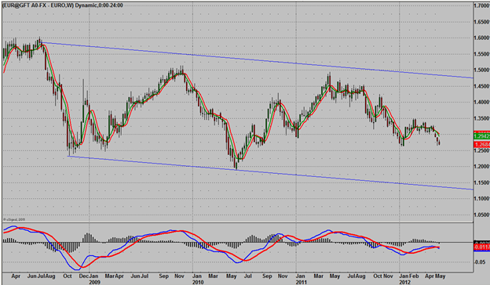 Figure 2. Weekly EURUSD Chart
USDCAD took strength from the weakness in the major currencies and stock indices, and continues to be a good hedge for U.S. stock market weakness. Decent Canadian economic numbers have proven buying opportunities in USDCAD - selling opportunities for loonie futures -- and we would expect that to continue to be the case until the U.S. somehow starts putting up better data. Canadian retail sales need to be monitored today (Wednesday) to see if that trend continues. A price pullback to potentially put in a buy set-up would be welcome but if the last two sessions were any indication of this happening it doesn't look good. This Daily chart in Figure 3 reminds us all that the hardest thing to do in trading is allow a profit to run.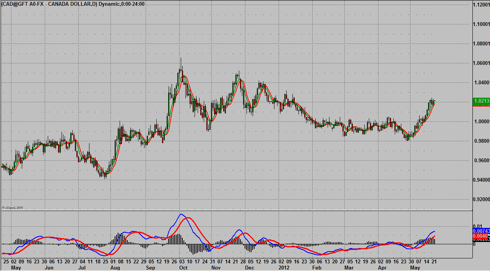 Figure 3. Weekly USDCAD Chart

Disclosure: I have no positions in any stocks mentioned, and no plans to initiate any positions within the next 72 hours.
Disclaimer: Trading involves risk of loss and is not suitable for all investors.