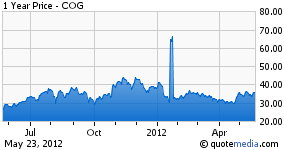 The main reasons for Cabot's (NYSE:COG) successes are that its been able to act quickly. It does not let new opportunities pass it by, and it is not slow to learn the new tricks of the trade and then use those tricks to its advantage. It is, to put it briefly, a company that is on top of its game. As compared to many of the competitors mentioned below, this is one of the very few gas and oil companies not afraid of change. This outlook is often what puts the company well ahead of the game in this particular industry. As an illustration to this point, the company continues to keep mining natural gas even though prices have declined. Perhaps it is waiting for a rise in process in the future. One thing is true: If the prices do rise once again, then Cabot is the company that will be the leader in the market.
You also have to keep in mind that last year Cabot was the number one performing stock in the S&P 500. It is by far one of the best plays that you can make in terms of gas companies. In addition it has its eye on a number of liquid oriented endeavors, making it an even more attractive option. Considering how the commodities market looks at the moment, its strength in this market may not be a very positive thing. If the gas market fails so too does the company.
The company is doing well but it has to face the fact that natural gas prices are low and a flat crude price is not what you would call high. This may stand in its way of monumental improvements at this stage or the very near future, but it seems to me that after a few years Cabot could really make its mark in oil and gas industry.
For now, though, Cabot will rely on the strength of its natural gas pipelines and production. Earlier this year, it announced plans for yet another pipeline in Pennsylvania. That pipeline just received word to take a step forward, as the actual path has been scoped out and determined. The pipeline is estimated to cost Cabot and its partner about $700-$800 million, so the company is hoping that prices will stay high enough to warrant a strong long-term return on investment. Either way, the forward steps show an investment on Cabot's part to prepare the pipeline and reap its benefits.
If we look at what its competitors are up to we can see why Cabot Oil is one of the better options.
As you may have already heard, Chesapeake Energy (NYSE:CHK) is under close scrutiny from its investors. This is because the leadership structure is being called into question as investors question whether or not the company has their best interests at heart. In an effort to combat the negative effects felt by the decline in the industry the company is cutting executive pay and removing perks such as the right to use company aircraft. However, this does not address the main concern, namely whether or not the company can control its CEO's spending habits.
In other competitor news ConocoPhillips (NYSE:COP) and Total SA (NYSE:TOT) are facing future financial difficulties that will probably hit them sooner rather than later. Essentially what has happened is that both of these companies will no longer have any right to operate the Immingham Oil Terminal in northeast England in the near future. As both companies produce a healthy amount of oil form this terminal, the consequences will be extreme. This is the result of a court decision to allow Associated British Ports Holdings to terminate its tenancy agreements with the two companies.
Anadarko (NYSE:APC) is in the news, but not for very good reasons. By this time, you've probably read about the company's apparent involvement in an alleged scheme to rid itself of $25 billion in environmental liabilities by spinning off the company Tronox about seven years ago. Basically the company is accused of pocketing huge sums of money while at the same time causing great environmental damage in several areas. If this is true the company's image will be greatly affected and it may take more than the recent oil discoveries in Mozambique for it to recover.
A competitor that has experienced a bit of good news recently is BP (NYSE:BP). The company's Cherry Point oil refinery in Washington was recently restarted. A fire a few months ago forced BP to shut the refinery down in order to do the necessary maintenance. This is god news for a company still facing the backlash from the Gulf of Mexico oil spill. It also caused a great decrease in the prices of gas in the area. This puts to rest the company's claim that its shutdown was not the cause of the increase in gas prices.
Apache (NYSE:APA) is doing very well for itself and I feel that this is the stock to be on the lookout for in the months and years to come. The company certainly seems to have a "bright future" when you factor in the Beryl field that is doing better than any other well, as well as the company's involvement in the Wheatstone LNG project underway in Australia. Apache, perhaps more so than the other companies listed above, presents a challenge to Cabot's rise. Apache also seems invested in natural gas supply, and has been doing quite well.
Time will tell if Cabot's strategies will pay off. The natural gas market should determine a good heft of the company's success as we move along. If Cabot is on to something, it may really be on to something and you'll want to join in. Wait for the first sign of success and jump on. If not, it may be wise to find a more secure bet.
Disclosure: I have no positions in any stocks mentioned, and no plans to initiate any positions within the next 72 hours.