New York-based hedge fund Tiger Global Management, founded in 2001 by Tiger cub Chase Coleman, manages $5.94 billion in assets, per its latest SEC 13-F filing for Q1 2012, up from $5.7 billion at Q4 end and $5.1 billion at the end of Q3. Coleman, like fellow hedge fund veterans Stephen Mandel at Lone Pine Capital LLC, John Griffin at Blue Ridge Capital Holdings LLC, and Lee Ainslie at Maverick Capital, is a Tiger Cub, meaning that he honed his investment skills while working for legendary hedge fund manager Julian Robertson at Tiger Management LLC. Also, as an interesting tidbit, Coleman is a direct descendant of Peter Stuyvesant, the last Dutch governor of New York and a major figure in the early history of New York City, who was responsible for the building of the 12-foot wall fortification that gave Wall Street its name.
Tiger Global runs a long/short equity fund, focusing mostly on the technology, consumer and industrial sectors. At 40% return, it was the best-performing long/short hedge fund in 2011, and second overall, well above the 0% return for the S&P 500 index and negative returns for the average hedge fund in 2011. Long term, Tiger Global has returned well over 20% compounded annual returns since inception in 2001, including a 47% average annual return from 2001-07. About 60% of Tiger Global's assets are deployed in large caps, another 25% in mid-caps and the remaining 15% is invested in small-cap equities.
We analyzed Tiger Global's Q1 13-F to determine its highest conviction bets, selecting the largest buys and sells in size, where the buy/sell is also a significant proportion of its prior quarter position in that company. Based on that analysis, the following are two of its bullish positions in Q1 2012, that can be bought significantly lower than what Tiger Global paid for them in Q1 (see table below):
Supervalu (NYSE:SVU): SVU is the nation's largest supermarket retailer and largest food distributor, operating its retail stores under the Acme, Albertsons, Cub Foods, Farm Fresh, Shop 'n Save, Shopper Food & Pharmacy, and other leading brand names.
Tiger Global added a new $36 million position in Q1. Other leading institutions making large bullish bets on SVU in Q1 include Denver, Colo.-based mutual fund powerhouse Janus Capital Management adding 1.5 million shares to its 1.8 million share prior quarter position, and legendary billionaire investor Ken Griffin's Chicago-based hedge fund Citadel Advisers adding 1.3 million shares to its 0.7 million share prior quarter position. SVU shares currently trade in $4.60s, well below the $6-$8 range they traded at most of last quarter, when Tiger Global, Janus and Citadel made their large bullish bets. Furthermore, overall funds added a net ten million shares in Q1, buying/adding 40 million shares and selling/decreasing 30 million shares.
SVU seems to be a stock everyone loves to hate, recently initiated at a Sell and $5 target by Goldman at the end of April, and also panned by Jim Cramer. Traders are short about 88 million shares or 44% of the float, and the stock was ranked recently by businessinsider.com as one of the 15 stocks that traders are shorting like crazy. Its shares have fallen off steeply, down about 40% YTD, and about 55% in the past year. In the most recent Q4 (February), the company missed analyst revenue estimates but beat earnings (38 cents vs. 36 cents), which led the stock to stage a strong albeit short 30% rally over the next three days before it resumed its downtrend once again.
The shares currently trade at 3-4 forward P/E compared to averages of 12.2 and 2.7 for its peers in the retail supermarket group. From the moves by major funds in Q1, it seems that many leading managers believe that shares were attractively priced in Q4, and with the subsequent Q4 beat in April and a further fall in price, it is priced even more attractively at these levels.
Frontier Communications (NYSE:FTR): FTR provides regulated and unregulated voice, data, and video services to residential, business and wholesale customers in the U.S. Tiger Global added a new $81 million position in Q1. Other leading institutions making large bullish bets on FTR in Q1 include Franklin Resources adding 17.2 million shares to its 11.9 million share prior quarter position, and mutual fund powerhouse Fidelity Investments adding 17.0 million shares to its 4.3 million share prior quarter position. FTR shares currently trade in $3.40s, well below the $4-$4.50 range they traded at most of last quarter, when Tiger Global, Fidelity and Franklin Resources made their large bullish bets.
At a 12.4% dividend yield, FTR is among the highest dividend-paying stocks in the market. But that hefty dividend so far has come at a tremendous cost to shareholders. Its shares have been in a persistent downtrend since peaking at near $10 early last year, currently in the $3.40s near multidecade lows, and down about 63% YTD. The company is suffering under a heavy debt burden, and is also struggling to expand out of its commoditized wire-line voice business into more profitable IP-based video and other services.
FTR reported its Q1 (March) on Monday, with revenue coming in line and earnings missing analyst estimates by a penny (5 cents vs. 6 cents). Its shares have reacted sharply to the downside on the miss, dropping even further into all-time low territory, now down over 30% year to date. Its shares trade at 15-16 forward P/E and 0.8 P/B compared with averages of 16.3 and 4.1 for its peers in the regional (rural) wireline group, while earnings are projected to fall slightly from 25 cents in 2011 to 22 cents in 2013.
The following are additional stocks that Tiger Global is bullish about, accumulating shares in them in Q1 2012 (see table below):
The following are Tiger Global's bearish picks, based on its Q1 selling activity (see table below):
Click to enlarge image.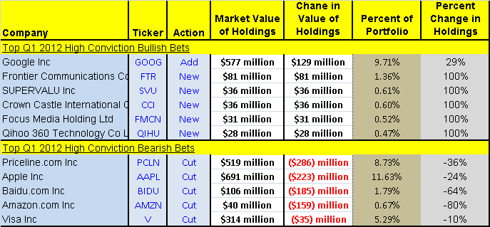 Click to enlarge
Credit: Fundamental data in this article and company descriptions are based on SEC filings, Zacks Investment Research, Yahoo, Thomson Reuters and Briefing.com. The information and data is believed to be accurate, but no guarantees or representations are made.
Disclosure: I have no positions in any stocks mentioned, and no plans to initiate any positions within the next 72 hours.
Disclaimer: Material presented here is for informational purposes only. Nothing in this article should be taken as a solicitation to purchase or sell securities. Before buying or selling any stock you should do your own research and reach your own conclusion. Further, these are our 'opinions' and we may be wrong. We may have positions in securities mentioned in this article. You should take this into consideration before acting on any advice given in this article. If this makes you uncomfortable, then do not listen to our thoughts and opinions. The contents of this article do not take into consideration your individual investment objectives so consult with your own financial adviser before making an investment decision. Investing includes certain risks including loss of principal.