We started a series this morning titled "Building A Do-It-Yourself Dividend Portfolio". Over the course of the next few weeks, we are going to highlight our top-ranked dividend stocks within each sector. Our goal is to provide fellow investors with a diversified pool of high-quality dividend stocks that we feel have the potential to be a core holding in your DIY Dividend Portfolio.
As we highlighted in the first article, we believe that patiently waiting for a low-risk entry point for a given stock will drastically improve your long-term investment results. Just because a stock has a high Parsimony composite rating, it doesn't necessarily mean that you should run out and purchase it that day. We scan the charts of our top-rated stocks daily looking for strong levels of support and resistance, which ultimately helps us determine a target "Buy Zone" for each stock.
Part 1 of the series highlighted our top-ranked dividend stocks in the Consumer Staples sector.

Tactical Strategy for the DIY Dividend Portfolio
As a follow up to Part 1 (Part 1b if you will), below are our target "Buy Zones" for each of these top-rated Consumer Staples stocks. We believe that the recent pullback in the broader equity market is offering investors the opportunity to pick up some great, high-quality dividend stocks at low-risk entry points.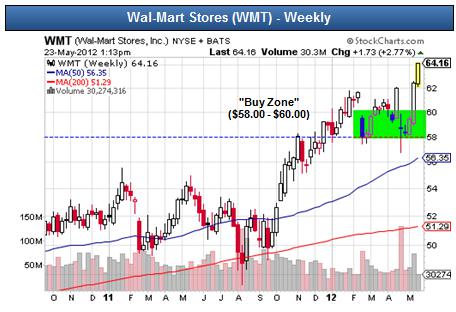 This chart of Wal-Mart Stores (NYSE:WMT) is bitter sweet for us. Wal-Mart not only carries the coveted "99" Parsimony rating (which is the highest rating in our system), but it is our #1 overall rated dividend stock. We own some shares...but not enough! We would love to add to our position in the $58.00-$60.00 range, which we think will be a strong level of support. This one is testing our patience level because our initial reaction is to chase it higher, but we know that will be the wrong decision in the end.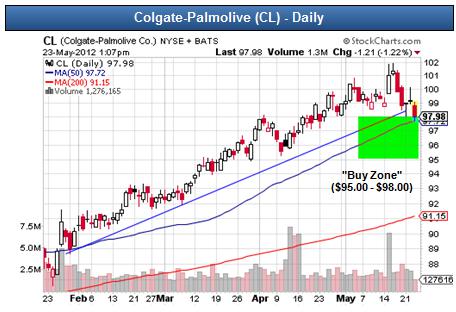 If only every chart looked like Colgate-Palmolive (NYSE:CL). The stock is in a very strong uptrend and we would welcome the opportunity to add to our position around the 50-day moving average ($97.72). As of this morning, the stock is entering the top part of our "Buy Zone". The Company has now increased its dividend for over 35 years in a row and the stock has a current dividend yield of 2.5%, which is well above the going rate for a 10-year Treasury.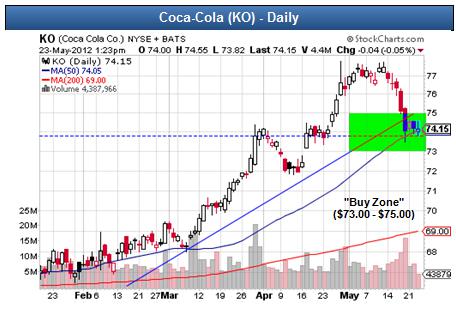 Coca-Cola (NYSE:KO) is another stock with a great long-term trend. The stock has had a nice healthy pullback over the past few weeks and it is now getting some support at the 50-day moving average ($74.05). This is the level that we have been waiting for and we think that the stock will bounce higher from here. KO has been a dividend machine for about 50 years now...quite a track record.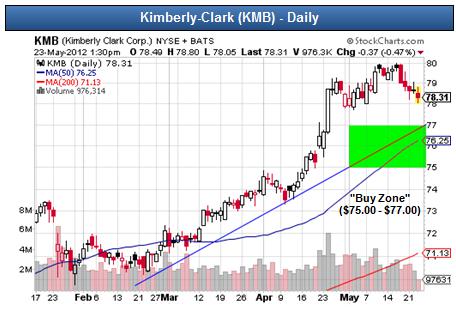 Kimberly-Clark (NYSE:KMB) is another stock that investors need to be patient with. KMB is in a very strong long-term uptrend, but we think it will test the 50-day moving average ($76.25) before making a new high. We would welcome the opportunity to add open a position around the 50-day moving average. Fingers crossed!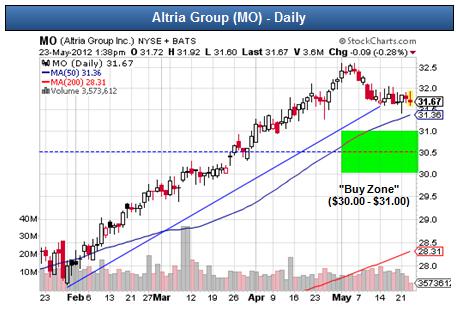 We wished we owned more of Altria Group (NYSE:MO). MO has made us very happy over the past several years as the stock has been absolutely on fire. That said, we can't let the greed get to us because we know from experience that all stocks experience short-term pullbacks. We are targeting a 10% decline for MO from its recent peak around $33.00, which will put the stock just below its 50-day moving average.
Summary
Investors should consider all of these great stocks for their DIY Dividend Portfolio, but please be patient with your entry points.
That said, two of the stocks above are currently in their respective "Buy Zones": Colgate-Palmolive and Coca-Cola. Feel free to pull the trigger on those stocks immediately.
Investors should use their discretion with the other three in the short-term as we believe all of these stocks will eventually hit our "Buy Zones".
Good luck out there...be safe!
Please make sure to "follow" us as we will be continuing our DIY Dividend Portfolio series over the coming weeks. We will also update readers if there are any new stocks entering their "Buy Zones".