On Tuesday there were a number of articles proclaiming that Johnson & Johnson (NYSE:JNJ) is a buy right now; that the stock is due for a rebound; and that the dividend makes for a solid income play. While I certainly cannot argue with the last claim, the first two can certainly be refuted. One article even went so far as to say that Johnson & Johnson would hit $68 within the next 2 months. This is wishful thinking and I will explain why below.
I should start by saying that I would be perfectly happy with Johnson & Johnson climbing back to its 52-week high of $68.05 (which it never actually closed at). I purchased the stock in the summer of 2010, when the stock was really due for a rebound and could not get much lower. I DRIP the dividends so I understand the steady income flow that the stock provides.Johnson & Johnson actually goes ex-date on the 24th with its newly raised distribution of $0.61 per share. That is a 7% bump from their previous payout and comes to a yield of 3.8% at the stock's current price.
The problem is that Johnson & Johnson does not have the earnings growth to support the price growth that investors hope for. The company is expected to grow earnings between 6%-8% a year (based on E-Trade projections) while revenue has been essentially stagnant. This would tend to suggest that Johnson & Johnson is reducing expenses and increasing profitability, but this will have to cap itself out at some point and revenues will have to grow to support price growth. Some have argued that the revenue problem will be solved because Johnson & Johnson has a very deep pipeline of upcoming pharmaceuticals, seen here, but it well known that the pharma industry as a whole is going to have a tough time dealing with products coming off patents. Additionally, only a third of Johnson & Johnson's sales are derived from such sales. As seen in this Trefis chart, medical devices make up more than half of sales and have a much greater impact than pills or consumer health products. Luckily, Johnson & Johnson is well aware of its long-term challenges and has begun to tackle them, such as with acquisitions. But it will be some time before it is known if substantial long-term price growth is on the horizon.
In the short term the stock may be due for a small rebound, but there are outstanding circumstances and I think that $68 is certainly not in range. Given that Johnson & Johnson released its quarterly earnings a month ago, notwithstanding major news, it is in a sort of limbo waiting for future guidance reports to be revealed and is subject to the pulls of the market at large. I think that there are really two such pulls, one technical and one global.
Below is a one-year graph of Johnson & Johnson. As you can see, the price has taken a bumpy ride and ultimately not achieved much in the last 12 months. One could argue that there was a slight upward trend from September to February but it would not be very definitive. More importantly, the price is treading around the 200-day simple moving average. Generally, technical analysts would say that this is an inherent support line. It was broken in April, but not for very long and not by very much. In fact, if a 300-day simple moving average was used it would show the ticks bouncing right off. Anyway, the price over the last few weeks has done the same thing and based solely on the last four days it appears that the price should continue upwards, but not by a substantial amount.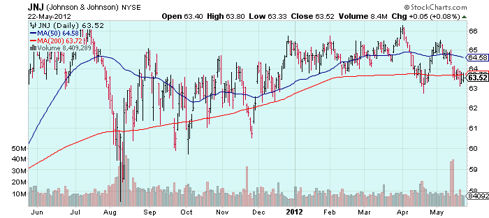 That being said, the entire market is still being moved by what's happening overseas. Johnson & Johnson is of course listed on the Dow and held by many large funds so it is very susceptible to these global movements. Volatility has been uncomfortably high over this time as well, which means that price may not be as efficient as it should be.
Additionally, Johnson & Johnson derives nearly half of its sales from international markets. If the European crisis is going to be a drawn out, systemic shift then Johnson & Johnson will surely be adversely affected in the long run. In the depths of the American recession, Johnson & Johnson dropped below $50 and since then the $65 level has shown strong resistance. So while it may seem that the stock is poised to break out, do not be surprised if the price stays put and just rest assured knowing that your dividends will keep paying out quarter after quarter; I will be happy either way.
Disclosure: I am long JNJ.