Kinder Morgan Energy Partners L.P (NYSE:KMP) is the largest independent owner and operator of petroleum product pipelines in the U.S. It owns more than 28,000 miles of pipeline and roughly 180 storage terminals and is the largest carbon dioxide marketer in the U.S.
Reasons to be bullish on KMP:
A strong relative strength score of 75.
A five-year cash flow per share average of $9.40.
A good five-year dividend average of 6.83%.
A 5 year dividend growth rate of 6.7%.
Operating margins of 23%.
EBITDA increased from $2.6 billion to $2.8 billion.
A 3-5 year EPS projected growth rate of 5%.
A good five-year ROE average of 22%.
A decent current ratio of 4.54.
Cash flow per share increased from $10.54 in 2009 to $11.72 in 2011.
Sales increased by more than a billion from $7.0 billion in 2009 to $8.2 billion in 2011.
Annual EPS before NRI increased from $1.31 in 2009 to $1.75 in 2011.
It has consecutively increased dividends for 15 years.
A total return of 94% for the past three years.
Year over year projected growth rates of 35% and 13% for 2012 and 2013 respectively.
A good free cash flow yield of 8.5%.
$100K invested for 10 years would have grown to $320K; if the dividends were reinvested the rate of return would be much higher.
Its carbon dioxide business is a major source of growth revenue; management has a long term hedging strategy in place to offset to deal with price fluctuations.
It increased quarterly cash distributions per common unit to 1.20, which represents a 5% year over year growth. Management expects to declare cash distribution of $4.98 per unit for 2012, an increase of 8% over the 2011 payments of $4.61.
Management has stated that they expect to generate over $ 4 billion in segment earnings before depreciation and depletion, an improvement of $565 million in comparison to 2011. It stated that it expected growth in each of its five business segments and plans to invest about $2 billion in expansions and small acquisitions.
The parent partner of Kinder Morgan Energy partners, Kinder Morgan Inc proposed plans to acquire El Paso, will create the largest natural-gas pipeline system in North America. This deal enables the Partnership to get involved in liquefied natural gas along the Gulf coast. It will also enhance cash flow generation and help drive growth for Kinder Morgan Energy partners which plans to acquire a sizable portion of El Paso's natural-gas pipeline assets over the next few years at attractive prices.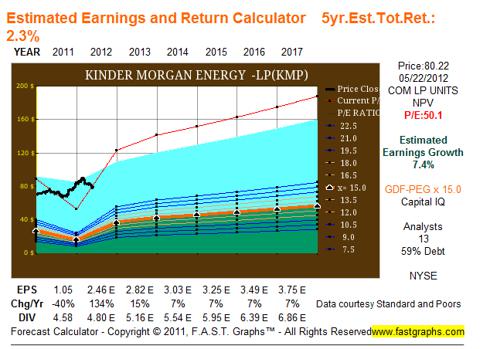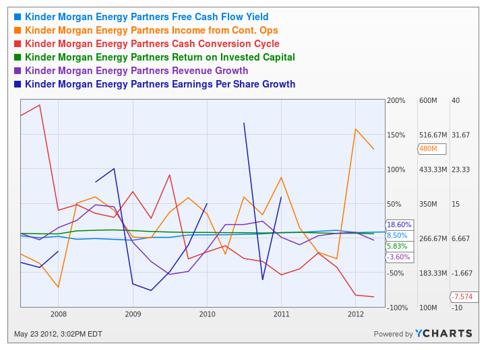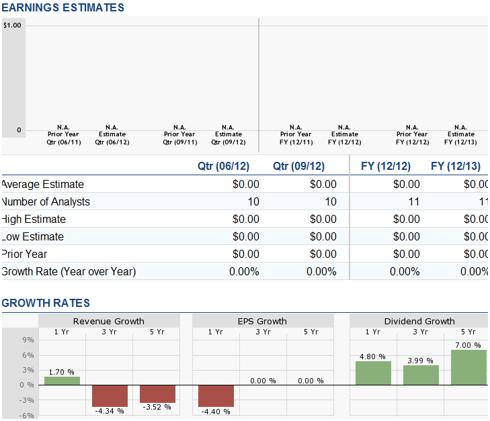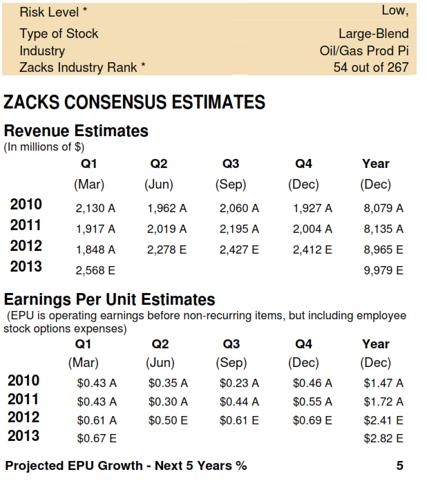 Company: Kinder Morgan Energy
Basic Key ratios
Percentage Held by Insiders = 20.72
Relative Strength 52 weeks = 75
Dividend 5-year Growth = 6.79
Cash Flow 5-year Average = 9.4
Dividend Yield 5-Year Average = 6.83
Growth
Net Income ($mil) 12/2011 = 1258
Net Income ($mil) 12/2010 = 1316
Net Income ($mil) 12/2009 = 1268
Net Income Reported Quarterly ($mil) = 206
EBITDA ($mil) 12/2011 = 2809
EBITDA ($mil) 12/2010 = 2780
EBITDA ($mil) 12/2009 = 2628
Cash Flow ($/share) 12/2011 = 11.72
Cash Flow ($/share) 12/2010 = 10.34
Cash Flow ($/share) 12/2009 = 10.54
Sales ($mil) 12/2011 = 8211
Sales ($mil) 12/2010 = 8078
Sales ($mil) 12/2009 = 7003
Annual EPS before NRI 12/2009 = 1.31
Annual EPS before NRI 12/2010 = 1.47
Annual EPS before NRI 12/2011 = 1.75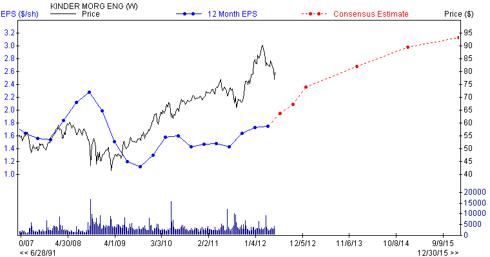 Dividend history
Dividend Yield = 6.2
Dividend Yield 5 Year Average 12/2011 = 6.83
Dividend 5 year Growth 12/2011 = 6.79
Dividend sustainability
Payout Ratio 09/2011 = 2.65
Payout Ratio 5 Year Average 12/2011 = 2.66
Performance
Next 3-5 Year Estimate EPS Growth rate = 5
5 Year History EPS Growth 12/2011 = -2.46
ROE 5 Year Average 12/2011 = 22.35
Return on Investment 12/2011 = 9.19
Debt/Total Cap 5 Year Average 12/2011 = 61.07
Current Ratio 12/2011 = 1.67
Current Ratio 5 Year Average = 0.61
Quick Ratio = 0.47
Cash Ratio = 0.19
Interest Coverage Quarterly = 4.54
Valuation
Book Value Quarterly = 31.4
Price/ Book = 2.46
Price/ Cash Flow = 6.59
Conclusion
Given its long-term growth prospects, we think it would make for a great long term play. We would, however, wait for a pullback to the 70-75 ranges before committing fresh money to this stock. One other option is to sell puts at strikes you would not mind owning the stock at. If the stock trades below the strike price, you will be assigned the shares but your final cost will be much lower as you get to subtract the premium from the strike price. If the shares are not assigned to you, you get to walk away with the premium. One suggested strategy would be to wait for it to test the 75 and then sell puts with strikes in the 68-70 ranges.
Disclaimer
This list of stocks is meant to serve as a starting point. Please do not treat this as a buying list. It is imperative that you do your due diligence and then determine if any of the above plays meet with your risk tolerance levels. The Latin maxim caveat emptor applies - let the buyer beware.
Disclosure: I have no positions in any stocks mentioned, and no plans to initiate any positions within the next 72 hours.
Additional disclosure: EPS and Price Vs industry charts obtained from zacks.com. A major portion of the historical data used in this article was obtained from zacks.com. Data for Ycharts sourced from Ycharts.com Earning and growth estimate data sourced from dailyfinance.com.