JPMorgan Asset Management published a report with data as of May 17, showing the percent change in price required for U.S. stocks and U.S. bonds to reach their 20-year historic "real" earnings or "real" yields.
It's a glaring look of what has been well talked about for a good while now, but not so clearly summarized for a broad scope. Their juxtaposition of stocks and bonds at the same time based on the same basic criteria is helpful.
We believe you will find it interesting.
Figure 1: US Stocks by Market-Cap and Style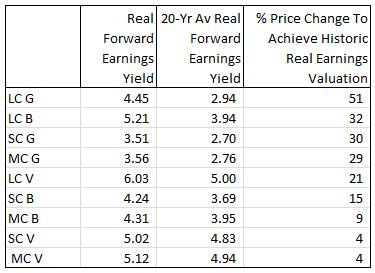 Related ETFs are:
Figure 2: US Bonds by Type (+ EM Bonds)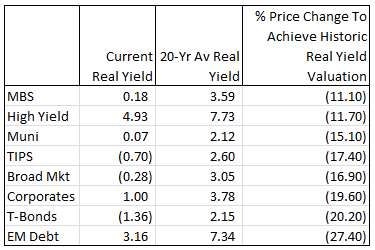 Generally related ETFs are:
The conclusions are straight forward.
Bonds: Only high yield U.S. bonds have a chance of a real, after-tax positive return, assuming rates do not fall even more. And given that high yield is adversely impacted by a bad economy, further Treasury rate reductions would signal a worsening economy, and therefore may widen the spread for high yield bonds. Emerging market debt has the second highest real yield, but would also produce a small after-tax real yield, and carries additional international investing risk. Bonds are generally unattractive at this time.

Stocks: U.S. stocks are having difficulties at the moment (not as much as the rest of the world), but they have a lot of upside if they revert to historic averages. Their current earnings yields are all higher than bonds, except for high yield bonds. However, unlike high yield bonds, which are fixed income, stocks have the potential to adapt and increase earnings and dividends.
There is nothing startling about this data, but it nicely puts a lot that most people generally knew to be true into a view with a common base. JPMorgan thought it merited saying, and we think it merits repeating.
The long held view that a 60%/40% allocation for stocks and bonds may not make as much sense as it has for the past 30 years. Those years saw a continual drop in interest rates that gave bonds a tailwind. The next 10-plus years are unlikely to get that same kind of tailwind and may well face headwinds.
If bonds could actually drop that much, they may become more volatile as well, or at least not as rewarding. Their volatility moderation may not be as great as before, and their return contribution is unlikely to match the past.
Big picture allocation needs careful thought, if not major rethinking, based on the repressed state of yields in the world today.
Disclosure: QVM has positions in HYG as of the creation date of this article (May 23, 2012).
Disclaimer: StopAlert.com is a service of QVM Group LLC, a registered investment advisor. This article provides opinions and information, but does not contain recommendations or personal investment advice to any specific person for any particular purpose. Do your own research or obtain suitable personal advice. You are responsible for your own investment decisions. This article is presented subject to our full disclaimer found on the QVM site available here.