By Ingrid Lunden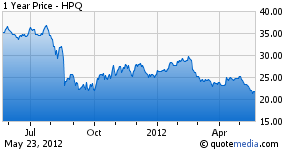 A mixed bag of news for Hewlett Packard (NYSE:HPQ) today: It posted Q2 sales that have just edged out analyst expectations, but it has also confirmed 27,000 job cuts that should save the company between $3 billion and $3.5 billion by 2014.
The company is a tech behemoth: It employs 350,000 people worldwide, before these cuts were announced. This means the cuts are equivalent to about 8% of its workforce.
The cuts fall squarely in the middle of the estimates that were reported in past weeks, with CEO Meg Whitman reportedly planning to cut between 25,000 and 30,000 jobs - news that investors seemed to actually find encouraging with the stock price rising on the news. That seems to be the case here, too - the combination of decent results plus a concerted plan for cutting costs sent the stock up in after-hours trading.
HP says that it will be offering voluntary retirement to employees, so the exact number of actual layoffs has yet to be determined. The money that it saves will be re-invested across the whole of the company. It also plans to take a pre-tax charge of $1.7 billion in FY 2012 as a result, with additional pre-tax charges.
As a result of this restructuring, HP expects to record a pre-tax charge of approximately $1.7 billion in fiscal 2012 that will be included in its GAAP financial results for that period. Through fiscal 2014, HP expects to record additional pre-tax charges approximating $1.8 billion that will be included in its GAAP financial results for the relevant periods.
As for earnings, these were down by 3% to $30.7 billion - but still beat average analyst expectations of $29.92 billion. Earnings per share were also down 21% to $0.98, with analysts expecting EPA of $0.91. As a point of comparison in demonstrating the drop in HP's fortunes, EPS for the same quarter last year was $5.24.
The company has been slowly changing the course of its ship in the past quarter. In March, the company announced an "organizational realignment" in which it started to consolidate some of its hardware assets. Its Imaging and Printing Group were merged with its Personal Systems Group to create a new Printing and Personal Systems Group that is now led by Todd Bradley, who had been heading up the PSG since 2005.
Last week HP announced that it would be giving shareholders a dividend of 13.2 cents per share. It is the third in FY2012 for HP. The company has 2 billion shares of common stock outstanding.
As AllThingsD pointed out earlier today, one big focus for the company is in its regional operations - specifically Europe. Some 37% of its revenues come from that part of the world - around $11 billion for this last quarter - and given the economic problems in Europe at the moment this means HP is the most exposed of the tech companies in the region.