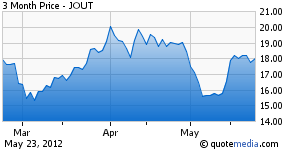 Johnson Outdoors (NASDAQ:JOUT) was started in 1970 and operates in 4 segments of the outdoor recreation industry: marine electronics, watercraft, diving and outdoor equipment. The two largest of these segments are marine electronics and diving accounting for 62.3% and 17.2% of revenue respectively last quarter. The company reported Q2 of FY 2012 results on May 4th, 2012. Sales were flat with last year's record results, and higher realized tax rates both domestically and internationally lead to earnings per share falling from $0.87 to $0.74 in the quarter.
Marine electronics brands include Minn Kota, Cannon, Humminbird, and Geonav. An unfavorable sales mix in marine electronic, with more sales of entry level products at big box stores, resulted in lower gross margins overall. This year 60% of revenue in marine electronics has come from new products. Johnson Outdoors is a clear leader in marine electronics, having the number one brand in many different categories.
Diving brands include Scubapro and Subgear. Scubapro is the number dive brand worldwide. Sales in diving equipment were up 20% year over year domestically, more than offsetting weakness in the important Southern European region. New products from Johnson Outdoors are positioned to retake the lead in the dive computers market.
In the outdoor equipment segment a 23.5% decrease in military spending led to an 8.2% decrease overall in Q2 of 2012. The company is focused on making this segment profitable without volatile military spending. Outdoor equipment brands include Eureka, Tech 4o, and Silva.
The watercraft segment includes Necky Kayaks, Old Town, Carlisle, Ocean Kayak, and Extrasport. Sales in this segment were disappointing, down 5.8% year over year in Q2, and have been flat over the first six months of FY2012. Management is working on improving this segment, and is continuing a strategy of selling products largely through specialty shops, where customers tend to spend more.
The company is not widely followed, and the one analyst following the company has it rated as a strong buy, and is expecting the company to earn $1.59 per share this fiscal year and $1.99 next year. The company had $51.5 million in debt and $29.6 million in cash at the end of the most recent quarter.
Just under 30% of the company is owned by Johnson Financial Group, and 9.9% owned by Towerview LLC. Insiders own approximately 7% of outstanding shares. Johnson Outdoors, since launching a plan to turn around the company in December of 2008, has brought operating expenses down from 47% to 36%. They have also reduced debt to equity from 50% to 30%.
Entry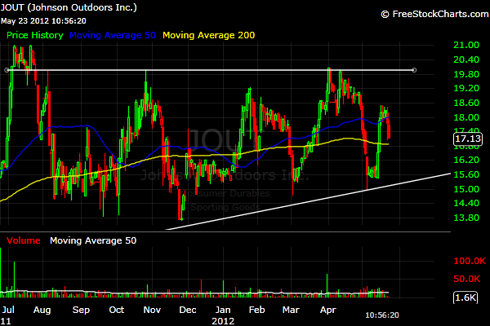 The stock has faced tremendous resistance at $20 per share. The lower white line shows a long-term uptrend that has been in place since spring of 2009, after the company launched its strategic plan in December of 2008 to improve profitability and competitiveness. I would look to buy as this stock approaches that trend line, and I think it would take strong earnings growth and sales growth in all segments to see the Johnson Outdoors break above resistance at $20 per share.
One possibility with the company trading at book value and at only 40% of revenues is it could be a takeover target. Also Johnson Outdoors could sell some brands where they are not the dominant player in that category to unlock some value for shareholders.
Data sourced from: Yahoo Finance and company filings. Chart from: Freestockcharts.com
Disclosure: I have no positions in any stocks mentioned, and no plans to initiate any positions within the next 72 hours.