Europe tanked today, with all most of the major indexes losing two to three percent. The US markets followed suit, with the S&P 500 hitting its intraday low, off 1.53%, during the lunch hour. But the index began a slow afternoon rally that began accelerating in the final 90 minutes of trading. Amazingly enough, the index closed the day with a fractional gain of 0.17%. CNBC reports that "Italian Prime Minister Mario Monti and French President Francois Hollande have agreed to consider all measures to boost European economic growth, including eurobonds...." No word yet on Angela Merkel's take on the topic.
The index is now up 4.87% for 2012, which is 7.06% off the interim closing high.
From an intermediate perspective, the S&P 500 is 94.9% above the March 2009 closing low and 15.7% below the nominal all-time high of October 2007.
Below are two charts of the index, with and without the 50 and 200-day moving averages.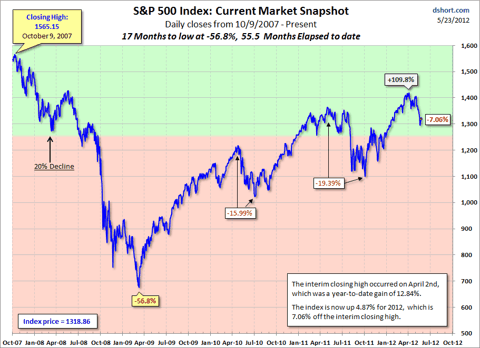 Click to enlarge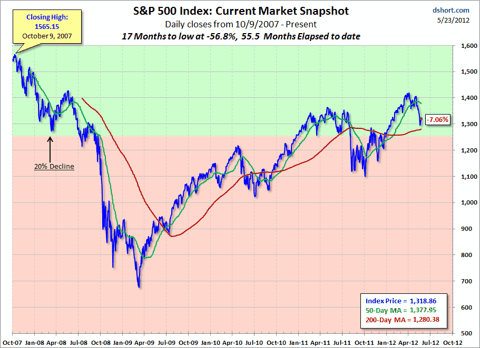 Click to enlarge
For a better sense of how these declines figure into a larger historical context, here's a long-term view of secular bull and bear markets in the S&P Composite since 1871.
These charts are not intended as a forecast but rather as a way to study the current market in relation to historic market cycles.