With a 45.5% 2007 return, iShares MSCI Malaysia Index Fund (NYSEARCA:EWM) was the fourth-best iShares international ETF for the year, trailing Brazil, China, and Latin America, with Hong Kong fifth.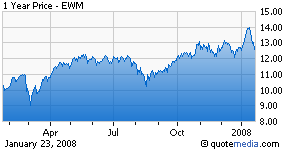 Those other four funds have dropped recently— down an average of 10.3% year to date, 6.5% over one month, and 11.1% over three months. EWM, on the other hand, is up 2.3%, 8.0%, and 9.2% for those respective periods. EWM's NAV did dip 5.4% last week but still outperformed those four and equaled the S&P 500 performance as investors worldwide fled risk.
In short, EWM held up better than the others as fears of economic trouble in the U.S. market spread across the globe. The country's benchmark index, the KL Composite, dipped 2.1% Monday while Asian and European indices fell much harder: China's Shanghai Composite was off 5.1% and India's 7.4%, while key European indices dipped between 3.9% and 5.5%.
The drastic drops across Asia "cast doubt on the theory that the booming region's fortunes have 'decoupled' from those of the U.S.," The Wall Street Journal reported, and represented broad disappointment with President Bush's economic stimulus package, announced Friday.
We added EWM to Don Dion's ETF Momentum Tracker Portfolio on Jan. 16, after the ETF rose to the No. 5 slot on our International Momentum Table, from No. 10 in mid-December.
One year ago, EWM joined the portfolio on Jan. 17, and it remained there until mid-July. Over that period, the fund gained nearly 22%. Repeating that performance may be difficult, given the issues facing the global economy. Yet in both the short and long terms, Malaysian stocks have some things going for them.
For one, Malaysia's real GDP is projected to grow 6% to 6.5% in 2008, following 6% growth in 2007 and 5.9% in 2006, according to the country's Ministry of Finance. The KL Composite Index rose 32% in 2007 and hit an all-time high early last week, partly on massive inflows from foreign investors who, like many EWM investors, look to the country's market as an alternative, even bargain-hunting, way to cash in on China's growth. Malaysia enjoys low inflation, a constitutional monarchy with a legal system that follows English common law, and natural resources—oil and gas, timber, rubber, palm oil, and tin among them—that make the country a net exporter.
Palm oil and rubber may be what sets Malaysia apart. Global demand for vegetable oil is expected to rise 54% by 2020, while natural rubber demand is expected to grow by two-thirds according to The Wall Street Journal. Malaysia leads the world in palm-oil production. Driven by demand as a biofuel and for food use, palm-oil prices jumped more than 68% in the last year, good news for top EWM holding Sime Darby and No. 3 holding IOI Corporation. Sime Darby, the world's largest listed palm-oil company by planted area, relisted in November after a merger with two other energy/plantation firms and promptly saw share prices jump 36%.
Over the short term, Malaysia may offer some relief from global market troubles, because investors there expect an election will be called soon. Typically, that means government announcements of spending plans in an effort to spur economic growth, a strategy that has been successful in recent years.
That news—together with rising commodity prices—has bolstered the stocks of plantation firms (such as Sime Darby and IOI) as well as Malaysian services and construction firms.
EWM recently invested in 59 stocks, using representative sampling to track its namesake index. The top 10 holdings account for nearly 60% of assets, with heavy bets in palm oil, banks (three in the top 10, led by No. 2 Bumiputra, parent of globally known CIMB), and resorts/casinos (No. 5 Genting, which also is involved in palm oil, and Resorts World). Other key holdings include Telekom Malaysia, which is selling off its mobile business, possibly in part to AT&T; the country's biggest electric utility (Tenaga); and MISC, a shipping firm concentrating on oil and liquefied natural gas.
One big concern, given the worldwide economic climate, is the fund's overall emphasis on financial stocks, which make up nearly 30% of assets, which could be a liability. Another is Malaysia's—and EWM's—risk level, due largely to the political and economic risks of a region of small countries. Back in 1997, the Asian economic crisis sank EWM shareholders, when the fund's NAV sank nearly 90% from early 1997 to the fall of 1998.
How EWM performs going forward probably rests on the issue of decoupling. Believers see Asian markets as the place to be to ride out U.S. trouble. But after a long run-up in Asia and Malaysia, skeptics argue that the early returns of 2008 clearly show the connection remains. It's a big if, but if issues in the U.S. become a global contagion, EWM and its Asian brethren could be in for a drastic fall.