A recession won't impact business at TransCanada Corp. (NYSE:TRP), says Cannaccord Adams analyst Bob Hastings.
He re-iterated his "buy" recommendation on the stock and C$45.00 target price, telling clients that recent weakness in the stock due to market uncertainty and recessionary fears, only creates a better buying opportunity for the shares.
"TransCanada's business is essentially recession proof given its earnings and cash flow are derived mainly through cost-of-service arrangements, contracts and/or essential services," Mr. Hastings said in a research note.
The company is also in its best financial position in decades, he added, "with a superior debt rating of 'A', the strongest balance sheet in over a decade and over $2.5-billion of annual cash flow."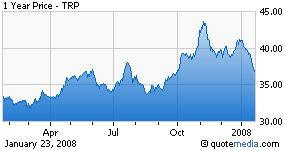 He said investors can expect strong growth from TransCanada's gas pipeline business through its incentive mechanisms and the entry into oil transportation with the development of the Keystone Pipeline project, of which ConocoPhillips (NYSE:COP) has just announced it will exercise its option to purchase a 50% interest.
Growth in TransCanada's power business, meanwhile, is expected via new projects and expansions at Bruce Power, the analyst wrote.