Over the last few months there has been a noticeable increase in the amount of transactions involving the hospitality industry. Most recently, we saw Accor selling Motel 6 to Blackstone (NYSE:BX). From the release:
Accor announces it has signed an agreement today to sell its United States Economy Hotels Division to an affiliate of Blackstone Real Estate Partners VII, for a total value of $1.9bn. The network includes Motel 6, the iconic North American brand, and Studio 6, an extended-stay economy chain, and comprises 1,102 hotels (107,347 rooms) in the USA and in Canada.

Jonathan Gray, Global Head of Real Estate at Blackstone, said, "We are excited about the opportunity to acquire Motel 6 and we look forward to working with its employees and franchisees. Although Motel 6 will be operated on a stand-alone basis, similar to other lodging investments we have made on behalf of our investors, we plan to invest significant capital in the Company's properties and to accelerate the expansion of the franchise base."
This deal got me thinking about the hotel/hospitality sector of the REIT market and how, like my strip center and industrial REIT overweights, this sector will continue to strengthen as the economy improves. The catalysts I see for improvement in the sector are:
Limited new supply coming on-line. This will help balance supply/demand in favor of the sector.
Occupancy is increasing and should continue to increase as consumers find their footing and business travelers (especially business travelers) increase their travel frequency.
Improvement being seen in average daily rates and revenue per available room.
As the chart below illustrates, there is still above average growth potential for revenue per available room (REVPAR) and therefore increased funds from operations within the lodging sector. (Source: Smith Travel Research & U.S. Dept. of Labor: BLS, provided by Ashford Hospitality):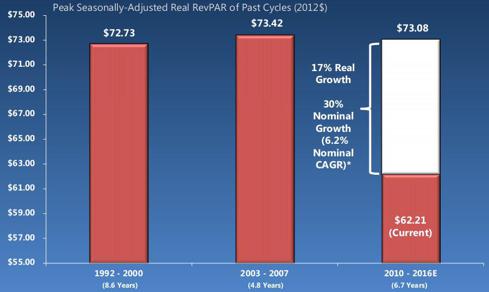 As of April 30, 2012, the Lodging/Resorts sector of the FTSE NAREIT Equity REITs is up 16.92% year-to-date, gaining 3.02% in April alone after an abysmal -14.31% 2011 performance. Hotels are gaining ground and more investors appear to be interested in building out their lodging portfolio.
According to Smith Travel Research, metrics are gaining ground and firming up:
The U.S. hotel industry in April reported increases in all three key performance metrics, according to data from STR.

Overall, the U.S. hotel industry's occupancy rose 1.4 percent to 61.8 percent, its average daily rate was up 5.0 percent to US$105.71 and its revenue per available room increased 6.4 percent to US$65.34.

"Impressively, ADR growth for the month reached 5.0 percent for the first time since April of 2008. We fully anticipate meaningful ADR growth to be a consistent story line this summer and the remainder of the year." (Brad Garner, COO at STR)

With the returns and current state of the industry in mind, here are some of the larger players in the space:

The bolded companies represent my top three picks in the hospitality sector of the REIT market. They are:
Chesapeake Lodging Trust
Hersha Hospitality Trust
LaSalle Hotel Properties
Chesapeake Lodging Trust. Chesapeake Lodging trust is a self-advised real estate investment trust that was organized in June 2009. The REIT is focused on investments primarily in upper-upscale hotels in major business and convention markets and, on a selective basis, premium select-service and extended-stay hotels in urban settings or unique locations in the United States. Chesapeake currently owns 12 hotels with an aggregate of 3,516 rooms in six states and the District of Columbia.
What I like about Chesapeake:
Moderately levered at 43%
Dividend well covered with a 70% AFFO payout and room for potential dividend increases (dividend was increased 10% in Q1 2012)
No problem legacy assets
The focus on Urban, Central Business District/Downtown locations in the top 15 MSAs with high barriers-to-entry should keep markets from being over-supplied and drive REVPAR
One of the only lodging REITs with positive ROE
Trades at a 17% discount to consensus NAV
Hersha Hospitality Trust. Hersha Hospitality Trust is a self-advised Real Estate Investment Trust that owns interests in 64 hotels totaling 9,221 rooms, primarily located in major metro and urban centers along the Northeast Corridor of the United States from Boston to New York City to Washington DC to Miami. The company also owns hotels in popular destinations in the Western US, including Northern California, Los Angeles and Arizona. Hersha focuses on high quality, upscale hotels in historically stable and expanding metropolitan markets. Hersha was formed in 1998 and went public in 1999.
What I like about Hersha:
Urban/gateway focused properties - supply constrained markets
Newer portfolio of assets - 45% of EBITDA is generated from properties less than fiver years old - purchased significantly below replacement cost per key
Conservatively levered at 39% and 5.2x projected 2012 EBITDA
Insiders own over 11% - aligned with shareholders
Trading at an 11% discount to consensus NAV
LaSalle Hotel Properties. LaSalle Hotel Properties is a leading multi-operator real estate investment trust owning 38 upscale full-service hotels, totaling approximately 10,200 guest rooms in 13 markets in 9 states and the District of Columbia. The Company focuses on owning, redeveloping and repositioning upscale full-service hotels located in urban, resort and convention markets.
What I like about LaSalle:
Urban (64% of EBITDA), resort (12% of EBITDA) and convention (24% of EBITDA) focused properties - stand to benefit significantly in the current phase of the lodging cycle
Occupancy at 79% is among the highest in the peer group
Conservatively levered at 30% and 4.1x EBITDA
71% of their properties are unencumbered
Trades at a 17% discount to consensus NAV and
Dividend payout is 71% of FFO, leaving room for further increases
Bottom Line: The three REITs chosen in the hospitality sector have common attributes, they are moderately leveraged, have no legacy asset issues and trade at a discount to consensus net asset value. While the dividend yield on these three hospitality REITs may not be the highest in the REIT universe, I believe that the sector, and the chosen REITs have above average growth potential for capital appreciation as well as dividend increases.
Disclosure: I have no positions in any stocks mentioned, and no plans to initiate any positions within the next 72 hours.