Shares of Seabridge Gold (NYSEMKT:SA) spiked higher Wednesday despite any real news. This article will discuss some possible reasons for the rally and give my personal view of what investors should do with the stock.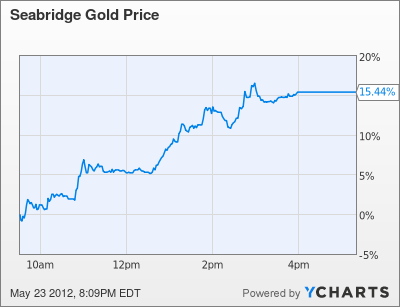 Gold Miner Rally
During Wednesday's trading session, shares of most major gold mining stocks were very strong. The performance of the Market Vectors Gold Miners ETF Index (NYSEARCA:GDX) is representative of what happened across the sector Wednesday. GDX closed higher by 4.47%. This move is even more impressive when considering that S&P 500 (NYSEARCA:SPY) was flat and Gold (NYSEARCA:GLD) was slightly lower. The sector-wide rally certainly played a part in today's move for SA.
Oversold
SA was down 48% over the past three months prior to Wednesday's rally. Comparably, the GDX was down just 25%. SA was due for a bounce.
Short Interest
SA currently has a short interest of 3.8 million shares or 12.12%. It is possible that some shorts have decided to lock in gains at these levels.
Options Activity
SA has experienced two days of heavy options activity. The move in the stock may be related to the heavy options activity over the past two days.
Small Market Cap
SA has a market cap of just under $700 million. This is relatively small and certainly adds volatility to the stock. Additionally, the small market cap means SA could be a takeover target from a larger gold miner.
My Take
Given the massive volume over the past two trading sessions (nearly 3 times the 10 day average volume of 673,000 shares on each day) it is difficult to recommend jumping into SA here. However, the stock is yet to show any real weakness to indicate that the rally is over. Traders who do not already own SA should either wait for a pullback or look at other gold mining stocks that have not moved as much over the past two days such as Nova Gold (NYSEMKT:NG), or Eldorado Gold (NYSE:EGO). Traders who are long SA should watch the stock closely for a break in momentum as a signal to exit the trade.
Disclosure: I have no positions in any stocks mentioned, and no plans to initiate any positions within the next 72 hours.