Shares of Zale Corp (NYSE:ZLC) finished over 13% higher on Wednesday following a better than expected earnings report.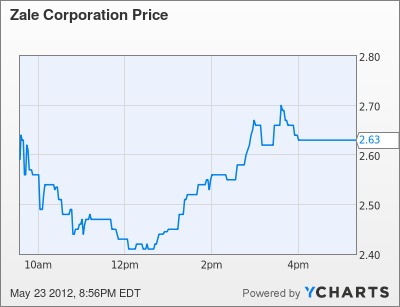 Earnings
ZLC reported a net loss of 14 cents per share, a major improvement from the net loss of 28 cents per share a year ago.

Same store sales rose 8%
Debt
ZLC has $425 million in debt, this is a significant challenge for the company considering ZLC only has equity of $85 million. Given ZLC's difficulty in turning a profit, the debt load is difficult to maintain.
Valuation
ZLC is currently trading at just 0.37 times book value. The valuation is certainly indicative of a company that is struggling. However, if ZLC is able to turn around the business, the shares likely have significant upside.
Short Interest
ZLC currently has a short interest of 3.64 million shares or 13.9% of the shares outstanding. The rally following earnings was likely caused by some shorts covering positions. If more good news comes out, the short interest will help to propel the stock higher.
My Take
I would be a seller of ZLC into this rally. Over the past few years, ZLC has done nothing to prove that it can consistently turn a profit. If management is able to turn around the company, the shares have plenty of upside. However, because of the difficulties in the past, I am skeptical about management's plans. In my opinion, the risks for ZLC are greater than the reward.
Disclosure: I have no positions in any stocks mentioned, and no plans to initiate any positions within the next 72 hours.