Rumors are again circulating that Gilat Satellite Networks (NASDAQ:GILT) is about to be acquired. We reported on this a few months ago, and it appears that we actually got one right.
Globes reported that:
After months of rumors and speculation, Gilat could be sold in the near future. It is believed that a group headed by Mivtach Shamir Holdings Ltd., one of its current shareholders, is close to signing an agreement for the acquisition of Gilat, after raising its bid to $11.60 per share. The new offer reflects a valuation of $455 million for Gilat, or $483 million fully diluted, and a 14.2% premium over its current market price.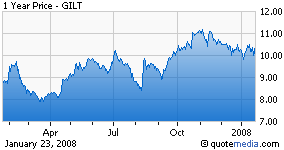 Gilat develops and produces very small aperture terminals for satellite-based communications networks. As my buddy Zack Miller wrote:
Competition in the satellite industry is heating up. Media companies, along with cable and wireless companies, have declared their desire to enter the satellite communications market. Instead of building an entire division dedicated to this, some of these companies are looking to either partner with, or acquire,an existing firm with good sales distribution. Gilat, with its focus on emerging markets and strong balance sheet, could be a good acquisition candidate.
Disclosure: The author's fund holds a position in GILT. He has no position in any other stock mentioned as of January 23, 2008.