BHP Billiton (NYSE:BHP) is the world's biggest miner. Recently, it planned to expand on its current operations. This growth plan, however, costs $80 billion. As a result of the high cost, the company's chairman elected to put a stop to the expansion plans. BHP seems to be in a bit of trouble. There have been reports stating that the company plans to delay at least two of its major projects in order to cut down on spending.
BHP is not the only company that needs to reconsider its long-term expansion plans. One of its main competitors, Rio Tinto (NYSE:RIO), is in a similar position to BHP. The decrease in commodity prices as well as a marked increase in costs means that these companies need to reevaluate where they put their money. There is, essentially, no money to spare, as BHP is sitting on $25.07 billion in debt with only $4.36 billion in cash on hand. The long-term prospects for BHP do not look good. Commodities will likely deteriorate even further due to decreased confidence in the global economy. When these factors come into play, companies like BHP suddenly don't seem like such a good long-term investment.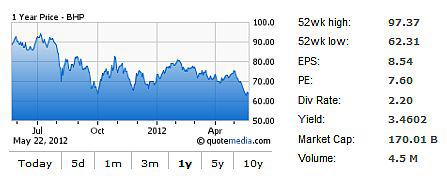 BHP workers are planning to strike at the Australian coal mines owned by the company. The reason behind the strike, which will last seven days and begin later next week, is based on a contract that no one wants to sign. This is the second time that the worker's union has rejected the contract. This comes at a time when BHP is trying to get a handle on the economic situation it finds itself in. The company has already declared force majeure on a number of shipments, releasing suppliers from an obligation to supply, due to events outside of its control. BHP insists that the proposed strike is unnecessary as it is devoted to reaching an agreement with the union and is willing to resume discussions. The workers claim that the new contract shows that the company is out of touch with its work force and that it expects them to make sacrifices that they are simply not willing to make.
Company chairman Jac Nasser says that this long-term dispute is an example of the unacceptable amount of power that unions have. The union, on the other hand, claims that the company merely wants to do away with the organized workforce it currently has at its fingertips.
I am inclined to agree with the workers on this count. The company itself called for a secret vote to determine whether or not its employees were happy with the contract. The results of the vote were staggering. No fewer than 83% of the workers voted to reject the new offer. This to me is a sign that BHP is, indeed, "out of touch" with its workforce, just as the union claims. The workforce just wants what they used to have when the mines were under different management, without any of the major changes to things like working hours that BHP wants to instigate.
To me, it seems that BHP can't keep a handle on its finances or its workers, largely due to matters out of its control, but also due to matters it will not compromise on. An unstable company such as this one is not one that I would back.
BHP competitor Vale (NYSE:VALE) is one of the world's largest iron ore producers. Recently, it expressed a desire to hire Citigroup (NYSE:C) to sell off its oil and natural gas assets in Brazil. This comes at a time when the company is increasing its focus on metal production. The company needs to start focusing on this area in my opinion as its efforts in areas not related to iron ore have simply not yielded the returns that it hoped they would.
In groundbreaking news, Alcoa (NYSE:AA) recently launched the construction of its "greenfield state-of-the-art aluminum lithium facility". Alcoa holds the patent for aluminum lithium alloys which will allow manufacturers to build aircraft that are both lighter and more cost effective. The strength-to-weight performance of the alloy is also excellent. These are the kind of groundbreaking new innovations that keep companies like Alcoa ahead of the game, and ahead of companies like BHP that simply cannot seem to keep up. If you're looking to leave BHP and stay within the industry, Alcoa seems to be doing a lot right at the moment.
Large competitor Rio Tinto, although suffering from several of the same shortcomings as BHP at present, still seems able to keep its head above water in the market. The company recently unveiled plans to begin constructing its iron ore mine called the Turee Syncline project in Western Australia. This project will begin next year. This will allow the company to continue expanding in the area, which means that it will be able to keep ahead of its competitors. Although the project is waiting for approval, it marks a positive step forward for the company.
Another related company that is experiencing some problems is Freeport-McMoRan (NYSE:FCX). This company is concerned about the violence around its mines in Indonesia that is the result of a workers strike. Although the company claims to be confident about its abilities to resolve the issue and to keep the government in the area from instituting regulations preventing foreign miners, it seems to me that in the long run this could mean a decline for the company. The company claims that as a company grows, workers become more and more demanding and sometimes these demands cannot be met.
BHP will need to work quickly to right itself again. The delay of its major projects will no doubt hurt its production and it will need some good news to counteract that. Alcoa seems to be moving forward, and BHP may find itself playing catch up if it can't act fast.
Disclosure: I have no positions in any stocks mentioned, and no plans to initiate any positions within the next 72 hours.