It goes without saying that the intra-day volatility in this market is tremendous. Six hundred point days aren't particularly common.
Given the Apple (NASDAQ:AAPL) news, Wednesday was a day we should have gone down and stayed down, especially since the pattern in 2008 has been for the bearer of even slightly negative news to be taken out and shot, along with the rest of the market. We were down hard on the open, came back to flat by late-morning, they tried to take it down again, then the bears capitulated and the Dow finished up 300 points.
I think we are in the process of putting in a near-term bottom. We have been so oversold that a bounce has been in the making for some time. Now, we have two pieces of news that should support the market - the Fed's 75 basis point cut on Monday and the potential bail-out of the bond insurers. We also have the Fed meeting next week, when it is likely the Fed will cut another 50 bps and take the Fed funds target down to 3.00%. I think there is a pretty good chance the market will be higher between now and the meeting Tuesday, and I expect the market to move higher still after the news.
The action over the past few days makes me believe that funds are unwinding the long/short positions that have worked so well. I have also heard that a very large hedge fund - which is not in danger of collapsing - has had several billions of dollars of outflows, though I cannot confirm this.
Take a look at what happened with the iShares Dow Jones US Real Estate Index Fund (NYSEARCA:IYR) on Wednesday, of which I am short.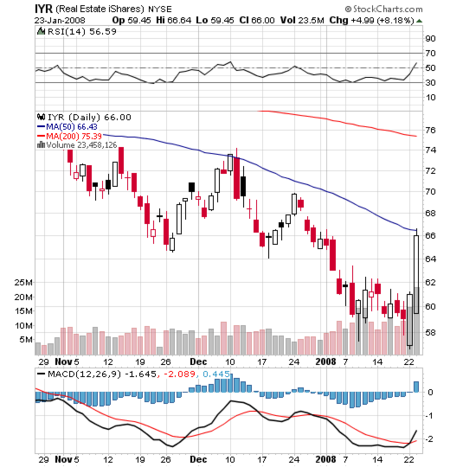 A while back, the short interest on the IYR was 100%. That means there are a whole lot of shorts trying to get out of the door at the same time. Hopefully, they'll push the REITs up further so I can re-load the short positions I liquidated not long ago.
The theme for the past few days is what hasn't worked over the past several months went up hard, while what did work went down. I expect this pattern to continue as the trade unwinds.
If the path of least resistance is up, then I would expect another 5%-7% to the upside. Hopefully, the eBay (NASDAQ:EBAY) news will trigger selling this morning so I can increase my near-term long position.
However, we are in a bear market. Rallies are to be sold or shorted. Any newly established long positions are rentals at best. The market will eventually be lower than where we bottomed this week.