It seems like years ago that gold was the most talked about trade in the market. With the VIX at all-time highs, the S&P 500 having sold-off nearly 30% from its previous 52 week highs, and even market leading stocks such as Apple (NASDAQ:AAPL) were trading at less than half of what they are trading at today; gold was all the rage last year.
Today gold has dropped off the map. With the S&P 500 and its tracking exchange traded fund, SPY up over 20% from the summer lows, market leaders such as Apple up over 30% this year alone, stocks and commodities have been the more favored asset classes this year.
Gold and its tracking exchange traded fund, GLD (NYSEARCA:GLD), have steadily declined since the beginning of 2012, as fear levels have dropped, and the dollar has rallied.
(Source)
Volatility premiums in gold options have dropped as well, as fear levels in the broader markets, as reflected in the VIX, have also fallen.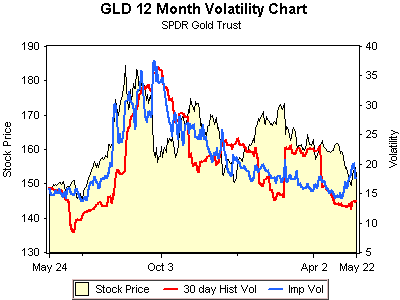 (Source)
Still, growth remains tepid. While leading industrial and financial companies such as GE (NYSE:GE) and Citigroup (NYSE:C) have had strong recent earnings reports, the job market remains weak in the U.S. Leading economic indicators, such as recent trade and manufacturing reports from China and Europe, have also been weak.
As I discussed in my recent article on gold, I think that with major elections and leadership change in the U.S., Europe, and China, we will likely see new stimulus after these governments establish themselves in power. Central banks in these countries will also likely wait to see what fiscal policies are pursued before taking new and more aggressive monetary actions.
Volatility levels in gold are at the lowest levels in the options market that they have been at in nearly a year, while gold is down nearly 25% from its high of over 1900 in the summer of 2011. Those coupled with rising fear levels, gold looks ready to run.
I would buy 2 March 2013, 155 dollar call options for $11.55, and sell a March 2013, 155 put, for $14.50. This trade requires an outlay of capital of 860 dollars with unlimited upside. Your risk to the downside is also unlimited, since you would be naked short a put option. The worst case scenario would be that you would have gold put to you at around 8% or lower from where this commodity is trading today.
Obviously if volatility levels rise, the implied volatility premium in put options will increase. But put option premiums are trading at elevated levels today compared to calls since gold has been declining for nearly six consecutive months. A move up in gold would likely cause volatility levels in calls to rise much more than in put options.
To conclude, with the U.S. election in November, European elections early in the year, and China changing its leadership in fall of this year, new stimulus actions will likely be taken only after the new leaders are established. Still, with growth and employment numbers remaining weak, new leaders will likely look to take new and aggressive actions if the growth outlook continues to deteriorate. With investor demand for the teflon metal at multi-year lows, leading economic indicators looking weak, and shorts likely growing complacent, gold may be set to move.
Disclosure: I have no positions in any stocks mentioned, and no plans to initiate any positions within the next 72 hours.