International Rectifier Corporation (NYSE:IRF), founded in California in 1947, designs, manufactures and markets power management semiconductors. Power management semiconductors address the core challenges of power management, power performance and power conservation by increasing system efficiency, allowing more compact end-products, improving features on electronic devices and prolonging battery life.
The company' primary reporting segments include: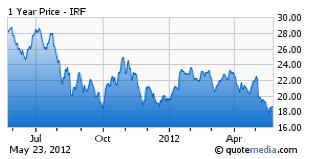 Power Management Devices - The PMD segment provides high performance power MOSFETs which include the lowest RDS(on) and widest range of packages up to 250V within the power management semiconductor industry for a range of applications including power supply, data processing, telecommunications, industrial, and commercial battery-powered systems.
Energy Saving Products - The ESP segment provides integrated design platforms that enable customers to add energy-conserving features to help achieve lower operating energy and manufacturing costs.
Automotive Products - The AP segment provides high performance and energy saving solutions for a variety of automotive systems, ranging from typical 12V power net applications up to 1200V hybrid electric vehicle applications.
Enterprise Power - The EP segment's primary applications include servers, storage, routers, switches, infrastructure equipment, notebooks, graphic cards, and gaming consoles.
HiRel - The HiRel segment provides high-reliability power components and sub-assemblies designed to address power management requirements in mission critical applications including satellites and space exploration vehicles, military hardware and other high-reliability applications such as commercial aircraft, undersea telecommunications, and oil drilling in heavy industry and products used in biomedical applications.
Basis
Financial information presented herein is based on the company's most recent SEC Form 10-K filing for the year ending June 30, 2011, as filed with the Securities and Exchange Commission on August 22, 2011.
Short-Term Investment Valuation
The stock closed recently at $17.62, with first resistance at $20.76, an 18% increase from the recent close, and second resistance at $22.55, a 28% increase from the recent close. Should the stock price break out above second resistance, the next resistance level is $29.28, a 66% increase from the recent close.
The stock should find support at $17.28, a 2% decline from the recent close.
Our equilibrium number, the mid point between resistance and support is $21.66, a 23% increase from the recent close, making the odds of a successful short-term trade about 4 to 1.
Earnings Growth Valuation
Earnings growth valuations are based on the spread between year over year earnings growth and the current P/E.
In the case of International Rectifier, the company had a year over year earnings growth of 57%, ending FY11 with earnings of $2.06 per share.
With a trailing twelve month P/E currently at 5, the spread between earnings growth and the P/E is 10, meaning that for an investor focusing on earnings growth, the stock should be trading at $51.17, a $33.55 increase from a recent close.
Fundamental Investment Valuation
Liquidity: The company ended FY11 with a current ratio of 3.5, a quick ratio of 2.5, a cash ratio of 1.8, and a cash conversion cycle of 134 days. The company also ended the year with a book value of $19.26. However, when goodwill and intangibles - which comprise 9.5% - of total assets are factored in, the company's tangible book value becomes $17.01.
Profitability: FY11 found the company with a gross margin of 46%, an operating margin of 19%, a net operating margin after taxes of 19%, a return on invested capital of 24%, and an effective tax rate of (6%).
Debt: The company ended FY11 with total debt of $0.
Cash Flow: The company's FY11 operating cash flow was $4.47 per share, a year over year increase of 46%. The company also ended FY11 with free cash flow of $2.28 per share, a year over year increase of 2%.
Dividends: During FY11 the company did not pay any dividends and no dividends are anticipated in the foreseeable future.
Fundamental Valuation: Based on our review of the company's latest annual financial information we think a reasonable value estimate for the company is in the $47-$54 range.
Investment Considerations
I was originally attracted to the company because I liked that a part of their business was automotive related. Not necessarily because of the current fad that has yet to become a fad, the electric car, but because of the potential for change in the automotive industry.
Flat panel display screens, hands free voice activated command centers, advances in sound technology, and soon, in my opinion, roaming internet connections complete with voice activated e-mail, tweeting, and god forbid, Facebook (NASDAQ:FB). Certainly, none of this stuff is new. But it all requires components that the company makes.
I also like the company's involvement in the power management and enterprise power industries, and believe these business segments will continue to be sustainable revenue generators going forward.
Final Thoughts
Considering a recent close of $17.62, an estimated merger and acquisition payback of 4 years (assuming EBITDA remains the same), and year over year earnings growth of 57%, we believe on a fundamental investment basis, the stock is currently under priced, and a candidate for additional research for my Wax Ink Portfolio.
Disclosure: I currently have a position in International Rectifier Corporation. However I plan to add a position over the next 72 hours. We have received no compensation to write about a specific stock, sector, or theme.