This week Apple delivered farcical guidance of 94c, which resulted in the stock being trashed in what was on every technical indicator the biggest and most sever sell-off since 2001.
For those who feel that management have no duty to offer realistic guidance but are perfectly entitled to say whatever they want, I say phooey.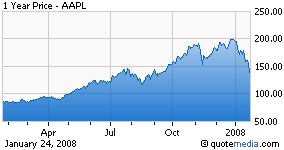 They have a duty to issue realistic guidance, something they have failed to do for about 16 quarters running now, low-balling it by as much as 80% in some cases.
94c is so obviously low-balled by a wide margin that it was bound to cause a rout, and Apple have quite literally destroyed many investors' portfolios as a result.
We may be held hostage by management, but that doesn't mean we have to fall in love with them even if they're good at their job.
Guidance stank, there is no other way of putting it. Perhaps it would have helped if they'd explained that the $1.2 Billion in amortized revenues they've got sat there is equivalent to about 25-35c in earnings from the iPhone - if it was all booked now, but they didn't. They made no effort to help the Street understand the numbers, which would have been easy enough to do as part of the earnings statement issued prior to the conference call, and which would have done much to help the more ignorant (ie. 95% of Wall Street and Joe Public investor) understand that there's a tsunami of earnings building in the background which they simply can't see because they don't understand, or can't be bothered to understand, the notion of free cash flow and why its so important in understanding the company's model these days.
That alone would have helped support the notion of a higher PE and underscored the company's ability to continue to grow earnings which are currently all but invisible to investors because they're not appearing anywhere they're used to looking for them. That would have helped prevent a rout to $126 today, even though perhaps some significant decline would still have occurred.
Its easy to say "they can do whatever they want," and sure. They can. But they shouldn't. They should make the effort to go the extra mile and not screw their investors over like this. If they want to continue providing guidance (which they should just stop - this charade is pathetic), they should ensure that it is totally transparent, and has explanatory notes attached. And above all else, it would not hurt one jot to explain in more elementary terms the impact (and worth) of their increasingly-widely adopted model of amortized earnings.
Yes, Wall Street analysts should have to do a lot of this for themselves, but Apple owes a duty of care to its shareholders - large and small - and its arrogant, aloof, and dismissive attitude to them is heart (and wealth) breaking, and engenders feelings of total mistrust towards the stock, meaning after it has appreciated to a level which finally reflects its growth, it is continually taken down and shot between 35-40% on a regular basis by the Street , who are the only ones to make money on the way up and the way down.
This UPOD guidance simply amounts to almost-criminal neglect of its shareholders. There is no other way to paint it. While I applaud management's absolutely incredible job in steering the company to where it is today with near-perfect execution, I deride their attitude to their investors.
Stop guidance, now, and start adding a bit more color on the numbers to the earnings press release.
Disclosure: Author is long AAPL.