As the global economy continues to bounce back and forth, the majority of the world has its gaze fixated on Europe, as its next move will dictate much of the future performance for international benchmarks. Some are calling for Greece to abandon the euro and revert to its former currency, while others feel that this would only exacerbate things; if Greece leaves the euro, what will come of other indebted nations like Spain, Italy, and Portugal? At the middle of it all, many are looking to the German economy to lead the way through the storm, as it has long been Europe's bright spot.
Today will see the German economy come into focus as the nation is slated to release its most recent GDP results. This will mark first quarter GDP, and on a seasonally adjusted basis, the figure is expected to fall at 0.5%. On a year-over-year basis, the result is predicted to fall at 1.2%, giving two important marks for this report to meet tomorrow. "The Organization for Economic Cooperation and Development on Tuesday forecast German GDP growth to slow to 1.2% this year before picking up to 2.0% next year" writes the Berlin Bureau.
Perhaps more important than the actual results themselves will be the guidance and commentary provided by the German government. With the surrounding European economies in turmoil, all eyes will be on Germany to provide a plan for the future as well as an outlook for what the euro zone may look like a few years down the line. The government will likely comment on how a Greek exit from the euro would impact their economy, so look for investors to remain especially fixated on that aspect of the economic indicator [see also.
Click to enlarge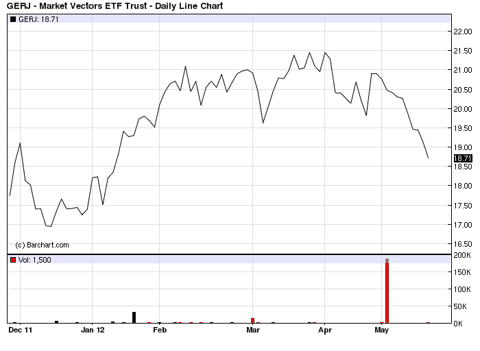 In the light of this major announcement, today's ETF to watch will be the Market Vectors Germany Small-Cap ETF (NYSEARCA:GERJ). This ETF measures small cap firms that generate at least 50% of their revenues in Germany with nearly 100 total holdings. As a small cap fund, note that GERJ could be more volatile than a large cap fund given that smaller companies typically exhibit higher sensitivity to market movements. If today's GDP results come in sour, or a negative guidance is given, look for GERJ to take a hit on the day, while a strong report or optimistic outlook could mean a big day for this ETF.
Disclosure: No positions at time of writing.
Disclaimer: ETF Database is not an investment advisor, and any content published by ETF Database does not constitute individual investment advice. The opinions offered herein are not personalized recommendations to buy, sell or hold securities. From time to time, issuers of exchange-traded products mentioned herein may place paid advertisements with ETF Database. All content on ETF Database is produced independently of any advertising relationships. Read the full disclaimer here.