This morning my screening on Barchart found an unusual opportunity in Kongzhong (KONG). The stock has momentum and a following with the individual investor but as yet is under followed by Wall Street. What attracted me to the stock was its upward price momentum and nice climb over the last 20 trading session in this chart provided by Barchart:
click to enlarge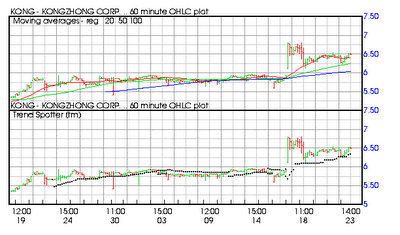 During the past 6 months the stock has far out paced the market as measured by the Value Line Index. While the Index is only up 5% the stock soared 57% during the same period: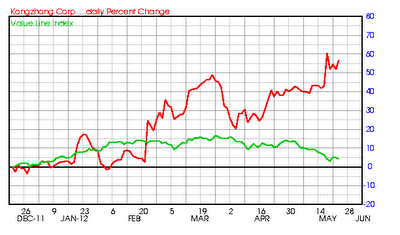 Factors to consider:
Barchart technical indicators:
96% Barchart technical buy signal
Trend Spotter buy signal
Above its 20, 50 and 100 day moving average
9 new highs and up 14.15% in the last month
Relative Strength Index 64.80%
Barchart computes a technical support level at 6.09
Recently traded at 6.52 with a 50 day moving average of 5.76
Fundamental factors:
Although this is followed by only one Wall Street brokerage firm that firm has a strong buy recommendation
The analyst predicts revenue will increase by 27.50% this year and another 13.40% next year
The earnings are estimated to increase by 431.60% this year, an additional 17.50% next year and continue to increase annually by 21.00% for the next 5 years
Individual investor sentiment:
Although not widely followed on Wall Street there is a surprising 1,014 readers of Motley Fool who have an opinion on this issue
Those voting were 94% sure the stock will beat the market
The more experienced and market savvy All Stars also voted 94% for the same result
Although Roth Capital likes the stock's prospects, Jim Cramer gave the issue a thumbs down the last time he was asked about the stock
I never decide on a stock until I see how the market is reacting and compare the market's opinion of its competitors. While KONG is up 57% in the last 6 month Sina Corp (NASDAQ:SINA) is down 4% and Sohu.com (NASDAQ:SOHU) is down 11% for the same period: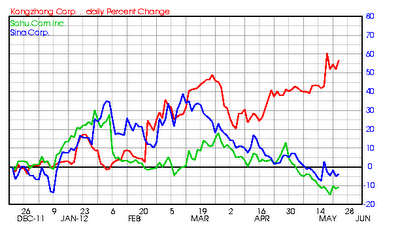 Summary: Kongzhong is a speculative stock. Although the stock has a large individual investor following it only has one firm recommending it and averages around 75,000 share traded a day. A new firm with a different opinion or a soft revenue and earnings report could cause too many people trying to exit the doors at the same time. Follow the moving averages and the turtle channel on this one and buy only if you can afford to speculate: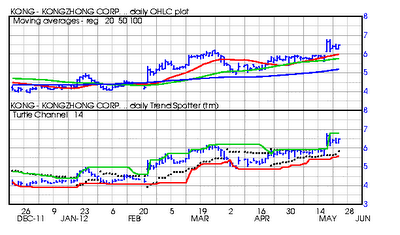 Disclosure: I have no positions in any stocks mentioned, and no plans to initiate any positions within the next 72 hours.