Why can't using a smartphone be more like using a browser on a desktop or a laptop? Obviously, some things are better done as "apps", like checking e-mail, sorting through photos and music, using a map, and producing office reports or content. When we need a focused and immersive experience, then it makes sense to use a focused and single purpose "app" or application.
I consider how much I can now do through a web browser on my laptop, and wish for that capability on smartphones and tablets. Surprisingly, browser usage on smartphone operating systems still shows room for improvement, though I think improved screen resolutions and larger screens will change the balance. We can already see that tablet web access is growing faster than smartphone web access, which I think is easily explained by the larger screen.
Click to enlarge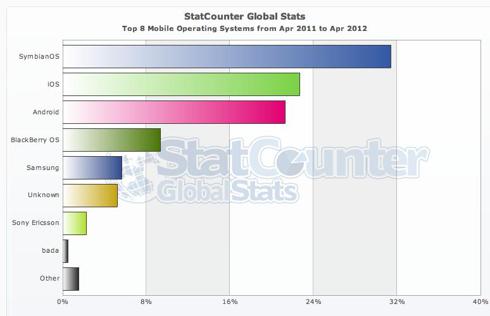 According to Pew Research, about 90% of us are sending or reading e-mail, 88% of us are using a search engine, 86% of us are looking at a map or driving directions, 76% of us are checking the weather, 75% of us are buying something, 72% of us are reading the news, and around 57% of us are doing our banking. This suggests that mobile commerce is becoming increasingly important, with some room still to grow. In the U.S. in 2009, mobile commerce represented about $600 million and grew to $2 billion by 2010. As investors, we look for opportunities to capitalize upon this trend.
Already, we are hearing of changes among smartphone manufacturers, with a few moving towards their own mapping solutions. There is cross functionality in some apps utilizing mapping features, though the way to monetize that information is through indirect advertising, such as pointing out possible places of interest to the end user. We can see that in camera accessing apps too, as with augmented reality apps that highlight places nearby, such as restaurants.
Yelp was one of the first app developers to leverage camera and location based services to power augmented reality. The advertising potential here is huge, especially as cameras improve on smartphones.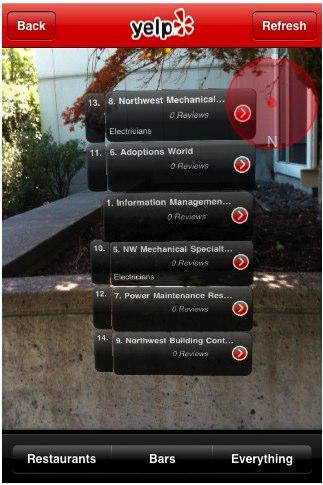 Another developer making some impressive tools available for other app developers, is Wikitude, who recently previewed some of its next generation augmented reality technology at BlackBerry Developer World. It pointed out it will make its software developer kit available to other app developers.
Advertising Age in 2001 pointed out that location-based services, like Foursquare, are gaining traction with local advertisers and credit card companies. Mobile ad spending surpassed the billion-dollar mark in October 2011, though still quite small compared to $31 billion dollars of on-line ad spending last year.
Zynga (NASDAQ:ZNGA) became one of the fastest growing companies among new media companies. The problem with Zynga is that it needs to keep reinventing itself in the form of new games, to lure in new users. It has seen some success with branding extension to real products, though I think much of the early run-up in shares was on the back of an expected Facebook (NASDAQ:FB) IPO.
As Facebook goes, I think we will see a similar trend in companies reliant upon Facebook. I would tend to avoid this space entirely, as I think Facebook and gaming is nearing saturation, and not indicating good growth prospects. Unless they move solidly to mobile, Zynga and other companies tied to Facebook may find it difficult to growing revenues.
Scott Hanselman points out some of the angst with apps, and a longing for a fully functional internet on smartphones and tablets. I largely agree with his view that apps are a pain, and his implied message that they are a throw-back to the early days of computers. Even Steve Jobs at the original launch of the iPhone, before there was an App Store, touted the internet capability as the predominant feature, and "Widgets" stood in ahead of apps until the following year.
Jobs also pushed Google Maps and working with Google on key features, though now it seems that the two companies are heading somewhat separate ways. Somewhere that vision was lost, the "Widgets" morphed into apps, and the openness tied to the internet has become a battle to control that interaction and space. Even internet search on mobile was pushed as a "killer feature" on the first iPhone.
Apps have ruled for a few years, as companies tried to figure out how to monetize development efforts. Unfortunately, those efforts have been unsuccessful for the majority of app developers. The successful few, like Rovio (NASDAQ:ROVI) with Angry Birds, have capitalized on the surge in mobile gaming. While it is hard to ignore the success of various Angry Birds refreshes and releases, I would wait to invest until Rovio shows it can pursue other successful direction, and become more like longer established gaming industry companies.
Games continue to be the most popular apps. When we move towards larger tablet screens, we might expect some traditional media like news and magazines to do well, but even there publishers are struggling to monetize development of mobile content, and for the most part publishers dislike apps. One of the biggest obstacles is that publishing survives on advertising, and not on subscribers. Many are finding that a greater focus on their internet content provides greater monetization than apps. The best example so far of that is the Financial Times, which created a web-based mobile apps-like experience that became more successful than they were in the App Store.
Unfortunately, some companies are moving to quash competition in an attempt to hook users into systems. We hear the positive aspect of being part of an "ecosystem", but the downside is that these companies are not pushed to innovate. Content and distribution channels are tough to lock down, unless there is a move away from standards, and that stifles competition. The smartphone makers hope to win this war.
Steve Jobs said in a 1996 Wired Magazine interview:
Big companies spend hundreds of millions of dollars building their distribution channels. And the Web is going to completely neutralize that advantage.
So at the moment there is a race to control the ecosystem, and distribution, mostly through apps, unique mobile browsers, platform specific mapping, and proprietary development tools. In the short run, I think that strategy will work for a few companies, though I expect the most popular apps, and most financially successful app developers, to launch on many platforms.
Some companies stand to benefit the more from an eventual move more towards HTML5, and mobile internet content. One great aspect, as we move towards information everywhere, is the need for ever more content creations, even if we might often feel overloaded. Adobe Software (NASDAQ:ADBE) enables management and creation of content, which can then be easily distributed in a variety of forms. its Creative Suite is at the forefront of content development in the creative and advertising industries.
Redesigning internet content for smaller devices, and eventually for viewing on HD televisions in more homes, as smart televisions become more common, will become a need for the majority of companies wanting to interact more with their potential customers. One thing that may hold Adobe back is its move towards a subscriber software model.
Initial reactions towards the Creative Cloud have not been favorable, though I suspect the move is largely to get around piracy issues and what Adobe feel are lost revenues. Cloud storage and software delivery may attract some investor interest, but it has not yet proven to be a hit with end users. Despite the question of success on its Creative Cloud endeavor, I'm looking for a re-entry into Adobe. There really is no other company that addresses the need for more content creation in as integrated a way as Adobe. I don't regret taking profits on my shares earlier this year, so I am looking for a re-entry under $28.00 a share.
Companies involved in mobile mapping may find strategic partnerships to their advantage. As Microsoft (NASDAQ:MSFT) pushes Bing Maps, even Nokia (NYSE:NOK) have its own mapping application. At the original iPhone launch, Steve Jobs touted the integration of Google (NASDAQ:GOOG) Maps, but now with Tim Cook at the helm, we are hearing more about a separate Apple (NASDAQ:AAPL) Mapping app to be rolled out late this year.
Netherlands-based TomTom, and well known Garmin (NASDAQ:GRMN), may move beyond apps towards strategic partnerships. Garmin might be the outside investment play of these, but I think that would be more speculative. I've never been fond of Google, which I see more as a billboard company, despite some interesting innovations there. Microsoft seems to have the most potential at the moment, and may capitalize upon wider adoption of Windows 8, if it can continue to improve Bing.
Mobile browsers will also become a battle ground, and become more important over the next few years of tablet and smartphone growth. Apple has locked in Safari and effectively locked out other browsers. Microsoft is pushing Explorer, while Google pushes Chrome. Outside of those, Mozilla and Opera are working on updates to their mobile browsers, though carriers or manufacturers could block them.
When we look at mobile search, we find similar moves to lock down systems, though the biggest loser in that might be companies outside the walled gardens of these ecosystems, like Yahoo (NASDAQ:YHOO) Search, though some may allow them on their systems in strategic partnerships. Just like the desktop and laptop world, many legal battles pushed for more choices, but we are not there yet with mobile browsers.
We might expect some legal challenges towards the manufacturers in the future, which would throw some revenue expectations into question, though arguably those may provide buying opportunities for long-term investors. I would avoid Yahoo entirely, as it seems to be lacking direction. Despite Microsoft seeming to move to allow Mozilla on Windows 8 devices, I think we may see some traction with Explorer, though the Google Chrome Browser recently made significant gains in market share.
Twitter has become increasingly important as a first-news source in trouble spots around the globe. While it is still a private company, a sale, merger, or IPO could provide an interesting investment. In such an event, revenue sources should be carefully investigated. If the rumored IPO materializes, I would look into the investment potential.
Twitter and other social media were used as information sources in the NATO campaign in Lybia. While I don't expect any of the mobile operating systems to block Twitter, mobile messaging appears to be moving towards system specific applications, somewhat following the idea of BBM on BlackBerry devices, but without the infrastructure and carrier billing cooperation.
Apple iMessage, Samsung ChatOn, AIM, WhatsApp, Google Talk, and Yahoo Messenger all get around text messaging charges from carriers, though they do either need WiFi or a data plan to function. Companies that move messaging cross platform might find greater adoption by end users, which argues for a rumored plan of Research In Motion (RIMM) to make BBM cross platform.
So far WhatsApp seems to be the most popular. What they all miss is that video chatting is on the rise, though it is not always practical to use that. Microsoft stands to gain the most in that trend, if it leverages Skype, though I think if it locks Skype to the Windows Phone, other choices may gain ground in its absence. Despite the high price paid for Skype, I think Microsoft stands to gain the most in the messaging space from this. Research In Motion could allow BBM on other devices in the form of an app, and that may prove to be the dark horse of all these; I would expect such a move to improve revenues, though it remains to be seen if it moves in that direction.
Facebook remains the dominant social media platform, though its mobile strategy so far could use some improvement. Quite likely it will remain cross platform, though I expect some of its revenue may go towards more acquisitions, allowing it to become a larger player on mobile devices. Revenues are largely through advertising efforts, though they seem to be losing their effectiveness.
I'm not convinced that Facebook can pull in more revenues than Yahoo, at least not until there are some major changes. Just like I would avoid Yahoo, even though Facebook is newly listed, I would also avoid an investment there. It would not surprise me to see Facebook shares fall under $20.00 over the next couple of months. A look at the following chart makes it appear to be more like web portal Yahoo, than like search giant Google.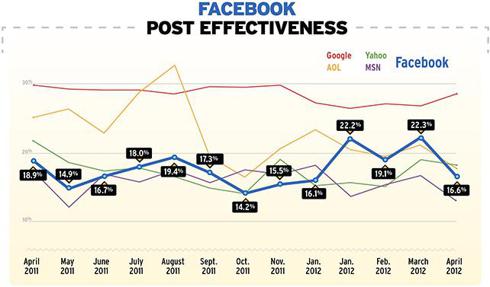 Advertising will become more important in future smartphones and tablets, though I expect in-app advertising to become a minority as larger screen devices allow a richer web experience on mobile. We might look for some of the giants of advertising to make gains as the need for more advertising, or better rates for internet advertising, increases with the growth of mobile internet.
I previously held shares of Interpublic Group (NYSE:IPG) and it is the first company I would look to for a long position. The agencies Interpublic controls have been consistently some of the most successful in advertising. I would consider Omnicom (NYSE:OMC) as its main competitor, based upon the strong relationships it has with many major top brands. Omnicom's TBWA Agency has been behind many successful campaigns for Apple, Adidas, Gatorade, and others.
The other two giant global advertising conglomerates are WPP Group (NASDAQ:WPPGY) and Publicis Groupe (OTCQX:PUBGY), both great companies, though I tend to avoid Pink Sheets listings. All these companies are somewhat tied to economic growth, in that advertising spending amongst corporations often declines during slow economic growth. Investors may want to wait for a more solid turnaround in global economies, though arguably all these companies are doing better than where they were in 2009. I will be investigating Interpublic under $9.50 for a possible re-entry, though Omnicom would be a consideration under $44.00 a share, based upon its brand promoting strength.
The internet has become an indispensable part of many of our lives. While desktop and laptop access to the internet has seen slow and steady growth, I feel that next generation tablets and larger screen smartphones will lead to increased internet usage. We may finally see Steve Jobs' vision of internet everywhere, as he touted at the first iPhone introduction, to become a strong reality. Eventually, this will also become a larger trend in emerging markets, as the developed markets near saturation.
Disclosure: I am long RIMM.
Additional disclosure: I previously held ADBE and may initiate a new long position this summer. I previously held IPG and may initiate a new long position this summer. I may initiate a new long position in MSFT or OMC this summer.