Avnet (NYSE:AVT) shares are higher Thursday after the company reported better-than-expected results for its fiscal second quarter ended December 29.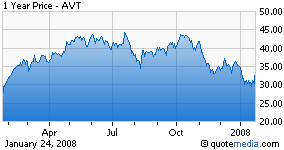 For the quarter, the electronics distributor reported revenue of $4.75 billion, and pro forma EPS of 89 cents. The Street had expected $4.56 billion and 85 cents.
For the March quarter, the company expects "normal seasonality", with revenue of $4.37 billion to $4.57 billion, and EPS of 85-89 cents. The Street has been looking for $4.35 billion and 85 cents.
In an interview with Tech Trader Daily this afternoon, Avnet CEO Roy Vallee said the strong results extends a string of strong quarters; but he notes that the stock has been hit hard in the recent downturn anyway out of concerns about the impact on the business form a slowing economy.
Vallee reports that the company is not seeing any slowing yet in either of its two major business - electronics component distribution, which is about 60% of revenue, and high end IT products distribution, which is the other 40%. That's interesting coming from Avnet, which has over 100,000 customers, not of which account for more than 2% of revenue. Vallee is optimistic about the March quarter, but does say that the key will be the behavior of IT executives as we get toward the end of the quarter. (He notes that revenue in the IT products side of the business tends to be back-end loaded, with about 50% of revenue in the final month.)
Vallee, who has been at Avnet for 31 years, notes that the company has been engaged in a 7 year plan of what he calls "value-based management," gradually increasing its returns on capital and improving cash flow, then using the cash to do "value-creating acquisitions," which in turn boost revenue and profit growth, and "strengthen our core operations, improving scale and scope as we go."
Vallee is clearly frustrated that the company is not getting rewarded for what has been a pretty solid track record of growth; earnings growth has been running at 20%-30% a year. He complains that the stock trades at a PEG ratio of about 0.5, with the stock at less than 10x the Street consensus estimate of $3.65 a share for the June 2009 fiscal year. Says Vallee: "The Street is either not getting our story, or not believing it yet."
Or maybe they're starting to get it: Avnet Thursday is up $4.31, or 14.2%, at $34.81.