Investing is hard. Following the herd might seem easier, but it's not always the right way to go. And so-called 'experts'? Well, they don't always get it right either.
President George Bush, Treasury Secretary Henry Paulson and Federal Reserve Chairman Ben Bernanke all spoke on Thursday and Friday telling the American people that we have a strong economy, but have hit a bit of a rough patch. All three assured us there was no recession looming. But how good are they in predicting the future?
Let's take a quick trip back through some headlines in early 2007:
"PAULSON: SUBPRIME MORTGAGE FALLOUT 'LARGELY CONTAINED',(Gabriel Madway, Mar 13, 2007, MarketWatch) -- Treasury Secretary Henry Paulson said late Tuesday the turmoil in the subprime mortgage market is no surprise given the correction in U.S housing market. Paulson also said the fallout in subprime mortgages is "going to be painful to some lenders, but it is largely contained."
"FED'S MOSKOW: SUBPRIME PROBLEMS ISOLATED, (March 26 2007, Reuters,) -- Problems in subprime mortgages are not spilling over to the rest of the U.S. housing market, which is in the process of stabilizing, Chicago Federal Reserve President Michael Moskow said Monday."
"BERNANKE: MORTGAGE TROUBLES CONTAINED, (Jeannine Aversa, March 28, 2007, AP) -- Federal Reserve Chairman Ben Bernanke told Congress on Wednesday that growing troubles in the market for risky mortgages thus far doesn't appear to be spreading to the overall economy but the situation bears close watching. "At this juncture ... the impact on the broader economy and financial markets of the problems in the subprime markets seems likely to be contained," Bernanke said in prepared testimony to Congress' Joint Economic Committee."
Well, we certainly know that the subprime mess was hardly 'contained.' It is reasonable to believe that these men have access to much better data than most, and look how wrong they've been. A headline from Bloomberg on August 10th, 2007 is pretty succinct: "Bernanke Was Wrong: Subprime Contagion Is Spreading" (Bob Ivry, 8/10/07, Bloomberg). The story's lead says: "Federal Reserve Chairman Ben S. Bernanke was wrong. So were U.S. Treasury Secretary Henry Paulson and Merrill Lynch & Co. Chief Executive Officer Stanley O'Neal. The subprime mortgage industry's problems were contained, they all said. It turns out that the turmoil was contagious."
The predictive powers of the FOMC haven't been much better. At the August 7th meeting the Fed expressed their concern for inflation as the primary risk to the economy and said "the Committee's predominant policy concern remains the risk that inflation will fail to moderate as expected." 10 days later, with the credit markets in disarray, the Fed cut the discount rate in an early morning surprise stating that "the downside risks to growth have increased appreciably." In 10 days things changed that much? Another 14 days later, on 8/31/07, Bernanke offered more reassurances to the market: "The Federal Reserve stands ready to take additional actions as needed to provide liquidity and promote the orderly functioning of the markets."
Treasury Secretary Paulson's track record may be of concern to some when it comes to talking about the dollar. Despite his frequent speeches that the US has a 'strong dollar' policy, the greenback continues to slide against most currencies and hard assets. Using the Dollar Index [DXY] as a proxy, it appears that Paulson's talking hasn't had much impact on the dollar (chart courtesy of StockCharts.com).
And it's not just people in power that get it wrong. Look how wrong Wall Street has been in piling into the mortgage business: "According to figures calculated by MarketBeat,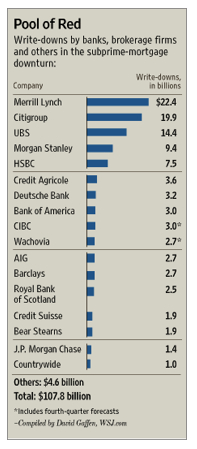 some $100 billion-plus in positions have been written down for 2007, as the world's investment banks recognize, en masse, that nobody wants this paper, not even made-up vehicles that have no choice but to buy it. (Writedowns Surpass $100 Billion, David Gaffen, WSJ Marketbeat, January 18, 2008).
Even the massively popular Jim Cramer makes some bad calls: "The host of CNBC's "Mad Money" now owes $50,000 after losing one of the worst wagers of his entire career to rival trading wiz Eric Bolling.
Cramer, who favors the phrase "Boo Ya," made an on-air bet with Bolling about a year ago that financial services would be the hottest sector of 2007. Bolling, a former trader at the New York Mercantile Exchange, placed his money on oil and gold.
"Investors who took Cramer's advice would have taken a 30 percent hit to their portfolios as the stocks of financial titans such as Citigroup and Merrill Lynch got hammered by the mortgage crisis. On the other hand, investors savvy enough to follow Bolling's bet on gold and oil would have hit the jackpot, as the hot commodities jumped over 60 percent in the same period." ('MAD' JIM CRAMER LOSES GOLDEN $50K BET, Zachery Kouwe, NYPost, January 18, 2008).
The point here is not to point fingers; everyone makes some bad calls. The Wilshire 5000, one proxy for the broader US stock market, has lost almost $2.6 trillion in market capitalization in the past three months, so a lot of investors have been caught up in this selloff. It is not necessarily true that those in power and those who are most often quoted in popular media would either know or, more importantly, reveal the everything they know about the markets. For your financial wellbeing, it is good advice to not follow the herd. Do your homework. Find some authors or websites that you feel comfortable with, or ask your friends if they are getting investment help from anyone that seems to understand what is going on in the economy and markets. But most importantly, think for yourself. After all, it's your money.