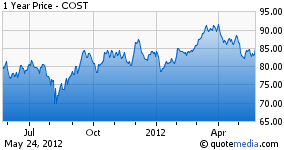 Just before Costco (NASDAQ:COST) announced its earnings yesterday, I threw a few thousand dollars at the stock and then enjoyed the pop.
In case you didn't hear, earnings beat estimates by two cents a share, but in fact were up 19% to $386 million from a year earlier. (It's always best to analyze retailers based on year-over-year numbers, due to the high seasonality of the space. Apologies if you already knew that.)
But I didn't buy for the pop. I bought for the business model.
I have shopped at Costco for years, and my late father loved the place. One of my favorite memories of him is his buying a full flat of strawberries and 6 pounds of chocolate so he could make chocolate-covered strawberries for my daughter, who was then 2. It's how he expressed love, buying things. In this case, vast quantities of things.
At Costco you consume in vast quantities. You bring in the SUV and load up. Maybe you'll go just once a month, as I do, but you'll spend upwards of $500 for a family of four, then spend the rest of the day looking for a place to store it all.
What distinguishes Costco from rival warehouses like Wal-Mart's (NYSE:WMT) Sam's Club is where it saves money. In logistics and supplier contracts. Sometimes this means playing the "low price police" with some big companies and losing access to goods for a while. (We lost Mott's apple juice and our son wouldn't touch the other stuff.)
What Costco doesn't do is low-ball its employees. It pays good wages, to everyone who works there.
It makes a difference in the customer experience. I can get laughs and smiles from the guys who corral the shopping carts in the Costco parking lot. The next smile I get in a Wal-Mart that doesn't come off a sign will be the first.
There has been a myth for years in American management that the way to make more money and keep the analysts happy was to squeeze the people who work for you and give yourself a big raise. Like Southwest Airlines (NYSE:LUV), Costco proves it doesn't have to be that way.
That's not just good for my bottom line. It's good for America. The more we're all on the same team, I think, the better we'll play. Before you think of investing any stock that deals with the public, talk to the people who work for it and, if they're miserable, look elsewhere.
Disclosure: I am long COST.