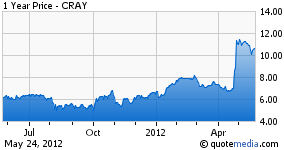 In late 2011, I covered supercomputer maker Cray, Inc. (NASDAQ:CRAY), noting that its recent success had not been priced in by the markets. The company had inked three large-scale contracts in the fourth quarter -- with Oak Ridge National Laboratory, the University of Illinois (in which Cray was brought in to replace IBM (NYSE:IBM)), and Japan's Kyoto University -- all but guaranteeing a profitable 2012.
Given the nature of Cray's business, and its reliance on a handful of projects for its revenue base -- the Illinois project alone, at the time, was projected to account for 40% of 2012 sales -- these contracts were of key importance to shareholders and potential investors. And, indeed, CRAY started to rise, along with the broad market, crossing the $8 level in late February before pulling back below $7 in mid-April.
And then the really good news was released. On April 24th Cray sold its interconnected hardware product line to Intel (NASDAQ:INTC) for $140 million in cash. At the time, Cray's market capitalization at the time was only $260 million -- and its enterprise value below $200 million. CRAY jumped over 20% the next day.
Two days later, CRAY jumped another 28%, as first quarter earnings blew past analyst estimates, and the company raised its full-year guidance. Cray now expects 2012 revenue of $430-$450 million, compared to a $340-$360MM estimate in November, $400-$420 million guidance in February and well ahead of the consensus estimate of $401.3 million. For the week, the stock rose some 60%, hitting a five-year high at $11.50. It has pulled back over the last four weeks, closing Wednesday at $10.67.
And at that level, CRAY still looks undervalued. At the end of the first quarter, the company had about $91 million in cash net of long-term liabilities, or about $2.46 per share. But the Intel deal is expected to add an additional $130 million after-tax, as the company noted in the Q1 earnings release. As such, Cray's effective net cash balance is over $220 million, right at $6 per share, well over half the company's current share price. That does not include a $12 million milestone payment from DARPA (the research arm of the Defense Department) the company announced Wednesday.
In addition, from an earnings standpoint, 2012 looks to be a banner year. At the midpoint of revenue guidance, gross profit would be $154 million. Cray also guided for $120 million in operating expenses and a cash tax rate between five and eight percent. At even the high end of the income tax range, net income for 2012 would reach $31.3 million, or 85 cents per share. That, of course, excludes the nearly $4 per share gain to be booked in Q2 from the Intel deal.
In short, by year's end, Cray should easily have $7 per share in cash and 80-90 cents per share in trailing earnings excluding the one-time game from the Intel agreement. Given the stock's current entry point below $11, those numbers create an excellent fundamental profile.
As with any stock, there are risks. Cray's business model is notably different to forecast; as the company itself reminds investors in its releases and public filings, "Actual results for any future period are subject to large fluctuations given the nature of Cray's business." The company was, in fact, unprofitable from 2004 to 2009 (though 2008 results were in the black excluding a non-cash impairment charge.) The reliance on a small number of high-profile, high-revenue projects means that any slip-up on a specific project -- or a failure to land a potentially lucrative sale -- can have a severe impact on Cray's bottom line. Adding to the risk, many of Cray's projects -- such as its installation at Oak Ridge -- are for various government agencies. Given the pending "fiscal cliff", Cray's reliance on government spending is of concern. The DARPA milestone program, through which Cray has received over $200 million in R&D credits, expires in 2012, creating potential margin pressure in addition to possibly limited government revenues.
But Cray management has successfully begun to diversify away from its reliance on the federal government. According to the most recent 10-K, 54% of sales in 2011 came directly or indirectly from government clients -- a still-significant number, but down sharply from 81% in 2008. The Intel deal should open additional commercial markets for Cray as well. While Cray sold its development program and intellectual property rights, Cray retains "certain rights" to that property and will partner with Intel on future projects. With the growing emphasis on "cloud computing" and the need for "Big Data" computing power for companies as varied as investment banks and health-care providers, Cray should have additional private-sector opportunities. Its partnership with Intel should only improve his ability to make those sales.
If Cray can execute going forward, manage the likely pressure on government revenue, and continue to expand its private sector pipeline, the stock is massively undervalued. Even if a few of the risks -- such as lowered federal spending or competition from far larger rivals such as IBM and Hewlett-Packard (NYSE:HPQ) -- prevent growth, the large cash balance and variable cost structure provide significant downside protection. For a stock that has doubled since October, CRAY looks like it still may have room to run.
Disclosure: I have no positions in any stocks mentioned, and no plans to initiate any positions within the next 72 hours.