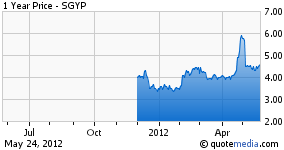 Synergy Pharmaceuticals (NASDAQ:SGYP) is looking to make a name for itself in an un-sexy but lucrative market. Synergy's lead product, Plecanatide, is being developed for the treatment of chronic idiopathic constipation (CIC) and irritable bowel syndrome (IBS). This company has not yet been discovered by institutional investors, as it was recently listed on the Nasdaq late last year.
Only this month has Synergy finally become investable to the likes of myself. While listed on the Pink Sheets, Synergy never raised enough capital to operate for more than a few months. Finally, on May 4th, 2012, Synergy raised $45M in cash, selling 10M shares at $4.50. This now allows the company to have enough cash to operate for the year and release data in Q4 from its Phase II/III trial in CIC.
Synergy has multiple catalysts between now and the end of the year. On June 22nd we'll see aggressive buying pressure from the Russell rebalance. Since it moved to the Nasdaq last year, it will be added to the Russell 2000 index, and estimates are for 2-3M shares to be bought by indexers.
Late this year, Ironwood Pharma (NASDAQ:IRWD), is looking for FDA approval on September 9th, 2012, for a competing drug. Ironwood's compound, Linaclotide, is also used for CIC and IBS. On April 23rd, 2012, Ironwood heard from the FDA that there would be a three-month delay to look further at the New Drug Application (NDA). Synergy popped in the days afterwards from $4.10 to $7 in less than a week. If the FDA were to further delay or reject the NDA from Ironwood, you would see another giant move higher in Synergy's shares. Furthermore, you can make a case that if Ironwood does get approval, it would add credibility to this class of drug, and Synergy's shares could pop.
Finally, results from Synergy's 800 patient Phase II/III trial is expected in Q4 2012. During Synergy's first trial of only 78 people, Plecanatide showed a remarkable safety profile with no reports of diarrhea. Plecanatide was also shown to be very effective in time until first bowel movement, and the number of complete bowel movements. Ironwood's competing drug saw 4.5% of patients quit trials due to severe diarrhea, and 19.7% of the patient population reported diarrhea as an adverse event. This type of adverse event will turn off potential patients, and that is why Synergy should be regarded as the best in class drug over Ironwood.
The potential upside for Synergy is huge; with approval the shares should trade $25-30. I arrived at this number because shares of Ironwood currently have a $1.3B market cap, and ex-cash the company is worth $1.1B. In 2007, Ironwood gave up 50% of the rights to Linaclotide to partner Forest Laboratories (NYSE:FRX) for $70M in cash. So, the market place is valuing Linaclotide at $2.2B. Considering Synergy has a best in class drug, the value for Synergy could be $2.5-3B. Currently, they have 64M shares outstanding. By my calculations they will have 100M shares outstanding by approval to fund operations and clinical trials in the future.
Synergy has a great drug and might be scooped up by larger pharmaceutical companies. This year will be very exciting for shareholders. Institutional investors currently don't own or know about Synergy. As the company goes to more conferences and word of mouth continues, shares will head higher into trial results in Q4.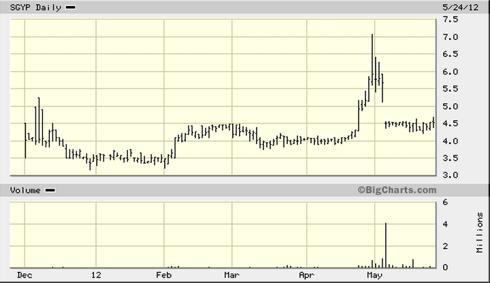 Disclosure: I am long SGYP.