Shares of Tiffany & Co (NYSE:TIF) are trading sharply lower Thursday following a worse than expected earnings report. Investors should use the decline to buy TIF because the long-term story has not changed. Rather, the current issues are the result of a weak global economy.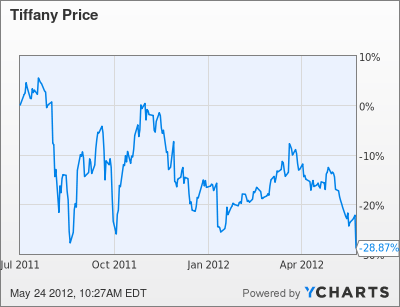 As shown by the chart above, TIF shares are down significantly from their all-time high reached in early July of 2011.
Earnings Report
Net income of 64 cents per share a 1 cents increase from the same quarter a year ago.
8% increase in revenue from a year ago to $819.2 million.
Lowered full-year earnings expectations to a range of $3.70-$3.80 per share. Prior guidance from the company was $3.95-$4.05.
Noted weakening demand in both the domestic and international markets.
The earnings release was certainly a disappointment, but the stock has also reacted significantly. Currently, as I am writing this, TIF shares are down about 9% to a new 52 week low.
Valuation
After the decline, using the mid range of earnings guidance ($3.75), TIF is now trading at 15 times earnings. At this PE ratio, TIF is cheaper than most of its luxury retail peers. Saks (NYSE:SKS) trades at 21 times earnings, Coach (NYSE:COH) and Ralph Lauren (NYSE:RL) both trade at 20 times earnings. In the past, TIF has traded as many as 30 times earnings. At these levels, the valuation is compelling relative to other retailers and relative to historic PE ratios for TIF.
Dividend
TIF pays a healthy dividend of $1.16 per share or 2.07%. This means investors get to collect a solid dividend while the company faces a difficult business environment.
Input Costs Declining
As noted by an analyst at Oppenheimer, input costs are declining for TIF. The huge drop in silver and gold prices over the past few months should help margins improve for the jewelry retailer.
Brand
TIF is unique in that it has a very strong brand. In this 2012 brand ranking done by Interbrand, TIF was rated the 20th best retail brand in America. The importance of the brand should not be overlooked as it is why TIF is where it is today. So long as the brand stays strong, the company should prosper long into the future.
New Stores
From the TIF Q1 conference call:
Our plans call for adding 24 Tiffany stores this year, and as you heard, we opened four in the first quarter. For the rest of the year, the 20 stores plan include six additional stores in the Americas, with leases finalized for a store in Manhattan's SoHo neighborhood, a store in Rio de Janeiro and a store on Altavista Street in the south area of Mexico City. We have seven stores scheduled to open in Asia Pacific, with leases finalized for a store in Bondi Junction, Australia, and a second store in Singapore's Changi Airport. We'll have two additional stores in Europe, with a store in Nice opening tomorrow and a store in Prague opening later this year. A store planned to open in the Berlin airport is now delayed until early 2013 due to airport construction delays. And we will soon begin to operate the five stores in the UAE, in Dubai and Abu Dhabi.
TIF continues to expand despite the current downturn. Ultimately, when the economy inevitably recovers, TIF will be very well positioned to benefit.
Conclusion
The combination of valuation, dividend yield, input cost decline, strength of brand and new store openings make the case for why investors should use the earnings related decline to buy TIF.
Disclosure: I have no positions in any stocks mentioned, and no plans to initiate any positions within the next 72 hours.