Frontline Ltd. (NYSE:FRO), through its subsidiaries, engages in the ownership and operation of oil tankers and oil/bulk/ore carriers. It primarily transports crude oil; and raw materials, such as coal and iron ore. It operates in Shipping industry.
It is scheduled to report its Q1 FY2012 results on May 31, 2012, before the market opens.
Recent EPS Actuals vs. Estimates
The company has met or exceeded analyst estimates in the last four quarters. In the last quarter it reported ($0.40) loss per share, beating analyst estimates of ($0.63) loss per share.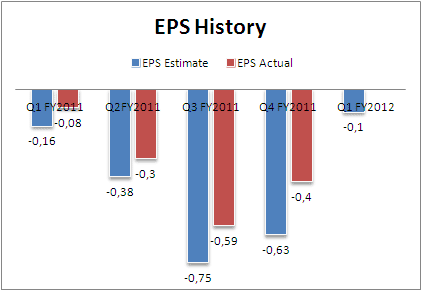 Analyst Estimates
The consensus for EPS is ($0.10) loss based on 10 analysts' estimates, down from ($0.08) loss a year ago. Revenue estimates are $91.35M, down from $159.1M a year ago. The median target price by analysts for the stock is $6.
Average recommendation: Hold
Analyst Upgrades and Downgrades
During the last 30 days, there were 2 analysts who revised current year EPS upwards and 5 analysts who revised next quarter EPS upward. Here is the list of recent broker rating changes:
On March 28, 2012, Dahlman Rose & Co. upgraded the company from Hold to Strong Buy.
On March 20, 2012, Wells Fargo upgraded the company from Hold to Strong Buy.
Key Metrics
Market cap: $392.4M
52 week trading range: 2.52 - 18.83
P/S: 0.48
P/B: 1.95
PEG Ratio: 0.67
Annual dividend yield (trailing): 2.4%
Total debt: $1.53B
Return on Equity: -108.79%
Return on Assets: 0.66%
Technical Insight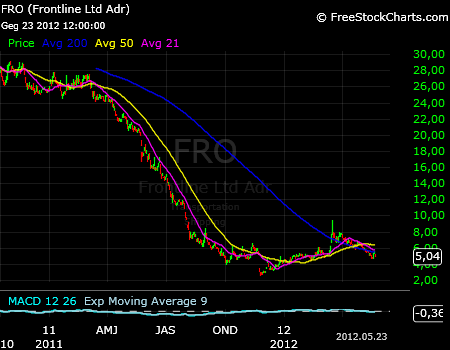 The stock is trading below 21, 50 and 200 day moving averages. 50 day moving average has crossed 200 DMA upward recently, but the stock is currently in a downward trend again.
Also, you can check on the list of stocks reporting earnings next week.
Sources: Yahoo Finance, Google Finance, CNBC, Marketwatch, Reuters, Forbes.
Disclosure: I have no positions in any stocks mentioned, and no plans to initiate any positions within the next 72 hours.