Fairchild Semiconductor (FCS) announced its highest quarterly sales, gross margin and net income since 2000. They also trumpeted record sales for analog switches and smart power modules. Everything seems to be coming up roses. Everything is set for the next quarter. Over 80% of revenues contained in guidance are already booked and just need to be shipped. All they have to do is make the stuff, put it on a truck and send it. Then accounting picks up the cash and it's all good.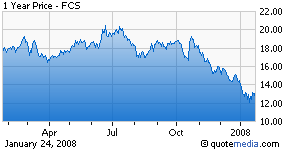 Fairchild claims bookings for Q4 were higher and in line with expectations. They did not provide any numbers to support the comment. Then they commented that distributor sell through was down 4% in Q4 following an increase of 7% in Q3. Next they comment that they have increased channel inventory staying within an undisclosed range after having decreased channel inventory by one week in the previous quarter. Every time they needed to spin a point they provided a number to back up. When it was negative, they failed to provide any numerical support.
Follow this quote from Mark Thompson, Fairchild's president and CEO:
End market demand was in line with our expectations paced by solid shipments for our products supporting computing, handset and power supply applications.
Bookings were sequentially higher in the fourth quarter and in line with expectations giving us a healthy starting backlog level. Distributor sell-through was down about 4 percent sequentially in Q4 after being up 7 percent in Q3. We increased our channel inventory while remaining well within our target range after reducing more than a week of inventory a quarter ago. We held lead times within a stable range of 8 to 9 weeks during the quarter and expect to maintain this level during Q1.