Gilead Sciences (NASDAQ:GILD) announced a record fourth quarter Wednesday, as the company posted $1 billion in product sales for the quarter, the first time the company had broken the billion-dollar mark in product sales.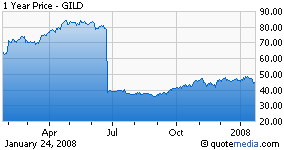 Led again by its HIV franchise, Gilead beat Wall Street estimates, which led to an upgrade from Friedman Billings Ramsey, an outperform reiteration from Rodman & Renshaw and a price target increase from Standard & Poors.
Revenue growth was led by continued strength in HIV drug Truvada. Truvada sales increased 33% year-over-year to $449 million for the fourth quarter. Gilead's newest HIV drug Atripla came in with $260 million in revenues for the quarter, slightly under analyst estimates. However, there are expectations for Atripla to further pick up its growth this year as the EU approved the once-a-day treatment in December.
Europe is poised to be a strong contributor this year to Gilead's growth. The weak dollar continues to help the company; Atripla sales will pick up there; and the company expects a second quarter approval of Viread for the treatment of Hepatitis B. Furthermore, Letairis, which treats Pulmonary Arterial Hypertension, and is approved in the U.S., is expected to be approved in the EU soon.
While the majority of Gilead's growth will continue to come from the HIV franchise, the company's push into other areas has been a mostly positive result for shareholders, and will continue to supplement long-term growth. The company expects its cystic fibrosis drug Aztreonam Lysine to be approved by the FDA in the third quarter; Viread is also expected be to approved for HBV in the third quarter by the FDA; Letairis had $15 million in revenues in the fourth quarter after being approved in June; and Gilead has Phase III trials ongoing for Darusentan, which treats resistant hypertension, and a Phase II trial for GS 9450 in the treatment of Hepatitis C.
The growth continued for Gilead in the fourth quarter, and the 2008 outlook looks good again. Investors should be happy with the company's results, its pipeline, and the continued $3 billion buyback of shares.
Disclosure: I own shares of GILD.